News & Community
"Baltimore Blimp" Breaks Loose
Reported on the ground near Muncy, Pennsylvania, widespread power outages.
By Amy Mulvihill. Posted on October 28, 2015, 2:44 pm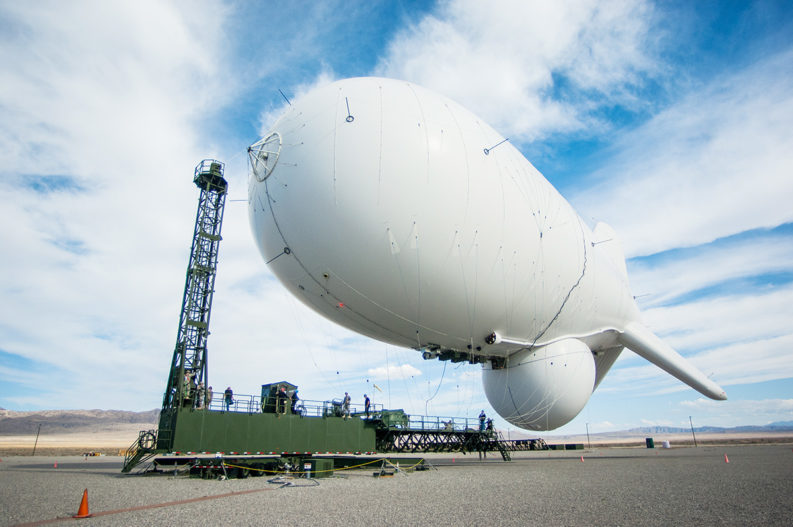 Update: As of 3:15 p.m., NORAD confirmed that the blimp is on the ground. There also are further reports that the "blimp's" 1.3-mile long tether damaged several power lines resulting in power outages in and around Bloomsburg, PA, including at Bloomsburg University, which has canceled classes for the remainder of the day.
Update 2: The Columbia County, Pennsylvania, fire department reports at least one fire caused by power lines damaged by the "blimp's" tether. In addition, approximately 20,000 are said to be without power in northeastern/central PA.

Update 3: Apparently, earlier reports that the blimp had descended and was on the ground were premature. The craft was simply hovering at a very low altitude, but still unsecured. Now, the AP is reporting that the "blimp" is down near Muncy, PA, and secure. A reporter for local Pennsylvania news station WNEP has tweeted a pictured of material from the blimp draped over trees at the edge of a field.
---
Cue the "Oh the humanity" references.
One of the two aerostats that float above Aberdeen Proving Ground and watch the skies for incoming cruise missiles broke free from its tether shortly just before noon today and is currently—ahem—at large.
The 243-foot-long craft—known as the Baltimore Blimp or the Aberdeen Blimp—is said to be floating over Bloomsburg, Pennsylvania and trailing 6,700 feet of cable. It is being monitored by two F-16 fighter jets scrambled from the Air National Guard base in Atlantic City. It has also been reported that the FAA and NORAD are working to keep air traffic away from the blimp, which was floating at 16,000 feet.
Currently, there are no known reports of any injuries or property damage. But authorities warn that anyone who sees the blimp should keep a safe distance and call 911.
As such, the incident has become fertile ground for jokes, with the Baltimore Blimp and Aberdeen Blimp Twitter accounts retweeting some of the silliest and wittiest cracks.
I cost how much and no one even put a tracking device on me? https://t.co/TbbUhhY5TC

— AberdeenAerostat (@AberdeenBlimp) October 28, 2015
.@BmoreBlimp pic.twitter.com/PgDec62KQf

— Mike Evans (@mikeyusc) October 28, 2015
#NowPlaying "I Want to Break Free" by Queen.

— Baltimore Blimp (@BmoreBlimp) October 28, 2015
I should know better by now, but even I still have trouble believing that "runaway surveillance blimp" is actually a thing.

— Edward Snowden (@Snowden) October 28, 2015
It's OK, guys. I brought my @TheMDTA EZ-Pass.

— Baltimore Blimp (@BmoreBlimp) October 28, 2015
Why dont they send tom Brady to deflate the blimp? feel free to agregate this tweet for your news websites roundup of blimpgate

— PFTCommenter (@PFTCommenter) October 28, 2015
The @BmoreBlimp be like: pic.twitter.com/Oy3XSMU72C

— Jessica (@TheCLJ) October 28, 2015
Amy Mulvihill is a senior editor at Baltimore, where she covers the environment, travel, real estate, neighborhood news, and culture.
Read more from Amy
---
Newsletters
Get fresh content delivered straight to your inbox.