Food & Drink
Mt. Vernon Marketplace Debuts Next Wednesday
We give you a sneak peek inside the 250-seat space before the grand opening.
By Lauren Cohen. Posted on October 09, 2015, 4:30 pm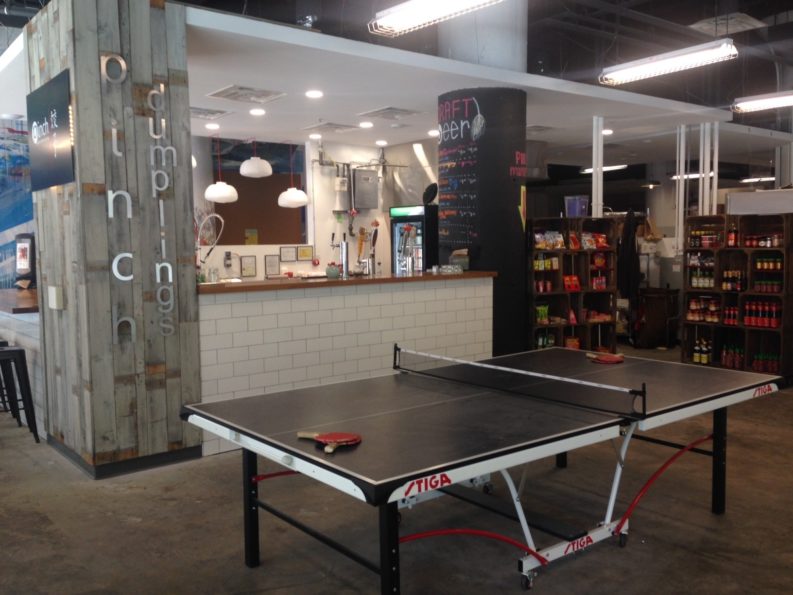 D.C.-based vendor Pinch Dumplings offers take-away Asian grocery items and Ping Pong. -Photography by Lauren Cohen
With the emergence of in-the-works marketplaces like Whitehall Mill in Hampden and R. House in Remington, Charm City is in the midst of a food-hall frenzy. The latest communal dining destination to get in on the trend is the Mt. Vernon Marketplace, a 15,000-square-foot emporium that officially opens its doors Wednesday, Oct. 14.
Upwards of 15 local vendors including Pinch Dumplings, Edible Flavors Bakery, Ful African Salads, The Big Bean Theory, The Local Oyster, Cultured Charcuterie, and Taps Fill Station—an eco-friendly bar that offers draft beer and wine to-go—have set up stalls in the space, offering diners plenty of culinary options.
"Baltimore has a rich history of markets that's 250 plus years old, and it's a fantastic thing to be a part of the next generation," says Will Glass, an investor in Taps Fill Station. "This market was designed for each vendor to do one thing and do it well, and that's what diners can expect."
Glass says that the idea for Taps was inspired by the concept of reusing rather than recycling. The bar's rotating list of beer, wine, olive oil, and nitro-brewed coffee on tap can be sampled in-house, as well as boxed, bagged, or bottled in reusable vessels for drinkers to take with them.
"What we've created is essentially a zero-waste bar and liquor store," Glass says. "Getting something on draft is the freshest thing available, and that's what makes this great for people going to a party or having friends over."
The bar's uniqueness also lies in its modern design, which incorporates a bright color scheme, menus delivered inside local magazines, and a contemporary jukebox-style speaker system that allows guests to customize the soundtrack from an iPad.
Another one of the stalls gearing up for next week's opening is Cultured—a charcuterie spot from chef Andrew Cole of The Other Corner Charcuterie Bar in Hampden.
In addition to classic meat-and-cheese boards, the stand will deliver sandwiches, salads, beer and wine, seasonal cocktails, and meat and cheese by the pound. And while the dishes at Cultured will be similar to what Cole has served in the past, he says that his new spot will have an identity all its own.
"I'll be upping what I already do, in a sense," he says. "I have a lot of new ideas about pairings and pickling things differently. It's definitely going to be a little more global."
Cole notes that he's excited to debut his concept in a communal setting along with all of the other business owners involved.
"We're in a non-compete market, so it's nice that we're all working together to make the entire space successful," he says. "People can grab something from my station and sit at the bar or vice-versa and have a little bit of everything."
Pinch, a D.C.-based dumpling destination, has been open in the space for two weeks now, highlighting handmade pork, chicken, lamb, and vegan varieties. The trendy area also boasts shelves of Asian grocery items and a Ping-Pong table.
"Sometimes you're just in the mood for dumplings," says Sam Hanson, who serves up the eats at Pinch. "The market is accessible and the food is all really good, so it has a certain appeal."
To celebrate the official launch, Mt. Vernon Marketplace will host a tasting event on Oct. 14 from 5-9 p.m., where guests can get acquainted with all of the vendors and their eateries.
Looking ahead, Glass says that he's excited to be able to partner with other vendors, citing a possible dessert and Saison beer pairing collaboration with Edible Flavors in the spring. He also says that while Taps is open to expanding in the future, he's happy to be a part of the current marketplace community.
"The market concept is a huge demand generator," he says. "When you have 15 vendors each shouting 'come to the market,' people are going to notice."
---
Newsletters
Get fresh content delivered straight to your inbox.