News & Community
Peaceful Protests Outside Courthouse as Jury Selection Begins in Freddie Gray Case
A small but vocal group of demonstrators expressed concern about criminal justice issues in Baltimore and elsewhere.
By Jess Mayhugh. Posted on November 30, 2015, 1:06 pm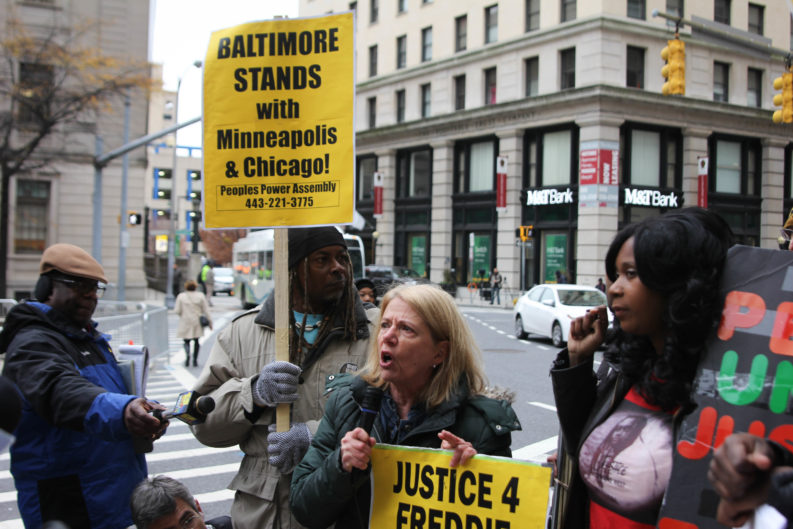 Demonstrators rally outside of the courthouse prior the trial of William Porter, the first of six officers charged in the death of Freddie Gray. -Meredith Herzing
Jury selection begins today in the trial of Officer William G. Porter, charged with involuntary manslaughter, second-degree assault, misconduct in office, and reckless endangerment related to the death of Freddie Gray. This is the first of six trials to move through the Baltimore City Circuit Court.
While the jury selection for Porter's trial will likely only last a couple of days, experts say that it's a critical aspect in setting the tone of the trial.
"[It's important] to select people who will consider the evidence in a fair and impartial manner," said University of Maryland Francis King Carey School of Law professor Douglas Colbert. "And that the jury selection results in a cross-section of the Baltimore community that fairly represents people who live in our city."
A small but vocal group of demonstrators gathered outside the Clarence M. Mitchell Jr. Courthouse Monday morning, including veteran Baltimore City public defender Todd Oppenheim, who is a candidate for judge in the city circuit court.
"I'm cautiously optimistic," he said. "I think we have some of the best jurors in the country and I think they can be fair to both sides . . . [But] I believe the court is at least partially responsible for perpetuating police misconduct."
Oppenheim, who had an op-ed published in The New York Times over the weekend, continued to say that many stop-and-frisks have been ruled legal by judges in similar cases in the past, which perpetuates the misconduct he mentioned.
"What can start as a simple rummaging through someone's pockets can snowball into violence and death," he said. "It can start with a small thing and end up in a case like Freddie Gray."
Demonstrators agreed that it doesn't just pertain to the case of Freddie Gray, but also speaks to the larger national issue of police brutality, citing the recently released footage of the fatal shooting of Laquan McDonald in Chicago. There was a visible presence from the People's Power Assembly, city youth mentors, and the family of Tyrone West, who died in July 2013 after an encounter with Baltimore police.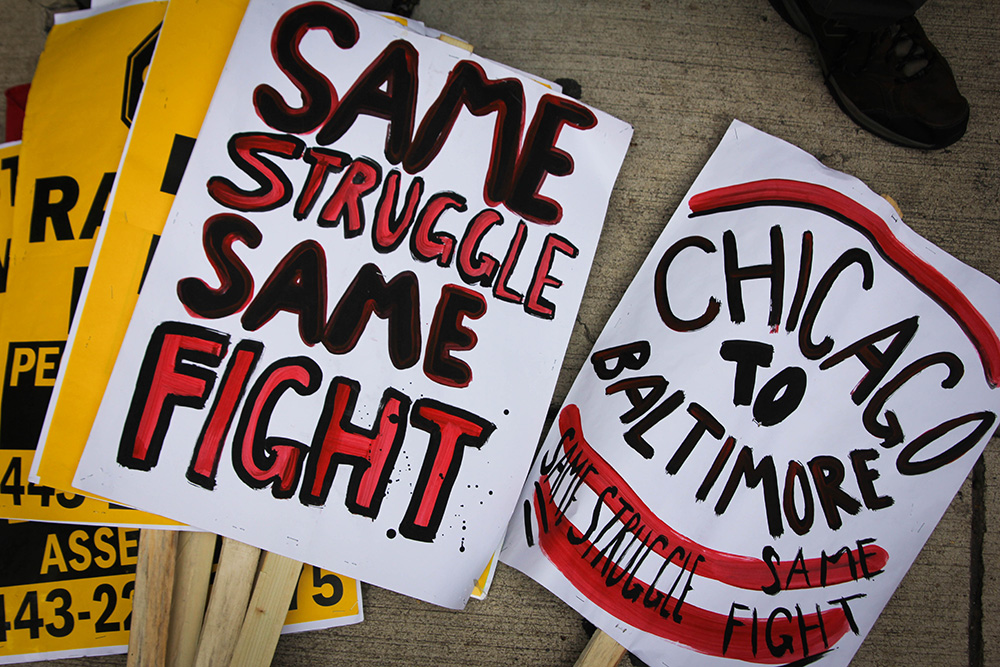 "Before Freddie Gray was brutally murdered, we started a movement right here in Baltimore," said Tyrone's sister Tawanda Jones. "We've been out here 123 weeks fighting peacefully for justice. My brother Tyrone West was brutally murdered. We expect justice to be served [in the Freddie Gray case]. We want convictions because indictments are far from convictions. We're expecting all six [convictions], but even if we get one or two, one or two is better than nothing."

Local experts say it's hard to predict exactly what will happen on the ground as the trials continue, but officials are prepared to enact further safety measures if necessary.
"We plan business as usual," said Maj. Sabrina Tapp-Harper, spokeswoman for the Sheriff's Office, which handles courthouse security. "If we find protests are fueling problems, we will phase in additional security measures."
In terms of how the six trials will play out and the verdicts' potential impact on Baltimore activists and protests, University of Baltimore criminologist Jeffrey Ian Ross said, "there are probably 100 different scenarios."

"My gut feeling is there are going to be some convictions on some charges, but 'who' and what charges—we will have to wait and see," Ross said, adding, "I don't think the outcomes will be satisfactory to everybody."
Regarding the return of intense media coverage and the national media in Baltimore on Monday, Ross said it remains to be seen if the scrutiny of Porter's trial will continue across all six trials, which are scheduled through the spring: "Both the news media and public have a limited attention span and limited tolerance for coverage of police brutality issues."
Additional reporting provided by senior editor Ron Cassie and social media producer Meredith Herzing. See Cassie's Twitter for live updates from the courthouse.
Jess Mayhugh is the digital editor for Baltimore, where she covers nightlife, sports, food, and events.
Read more from Jess Follow @jessmayhugh
---
Newsletters
Get fresh content delivered straight to your inbox.