2015: Year in Review
Twenty moments in the year that changed Baltimore.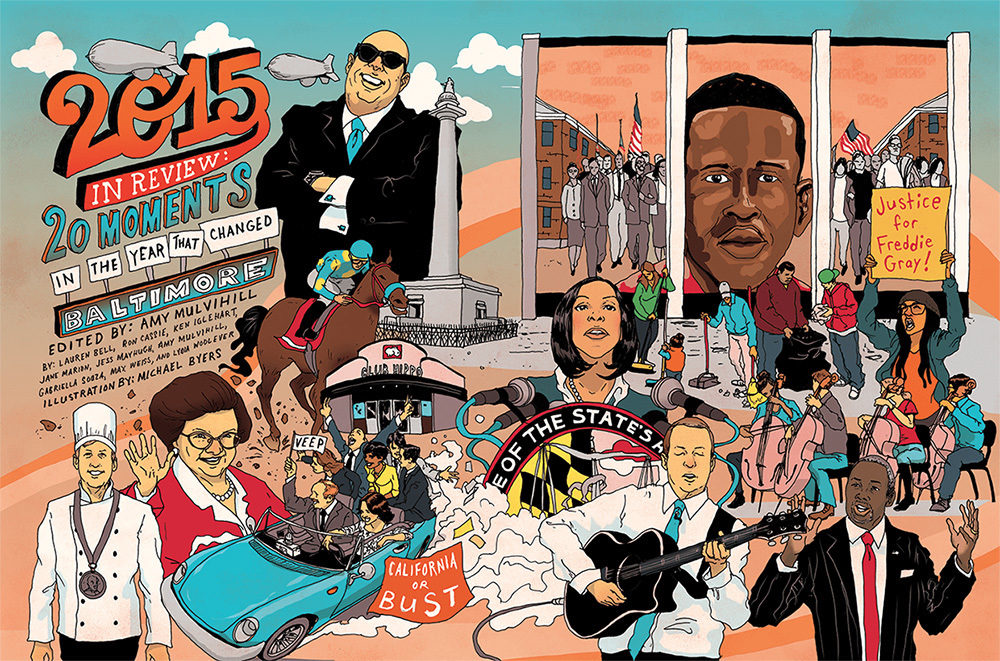 ---
---
1. The Death of Freddie Gray Sparks Citywide Unrest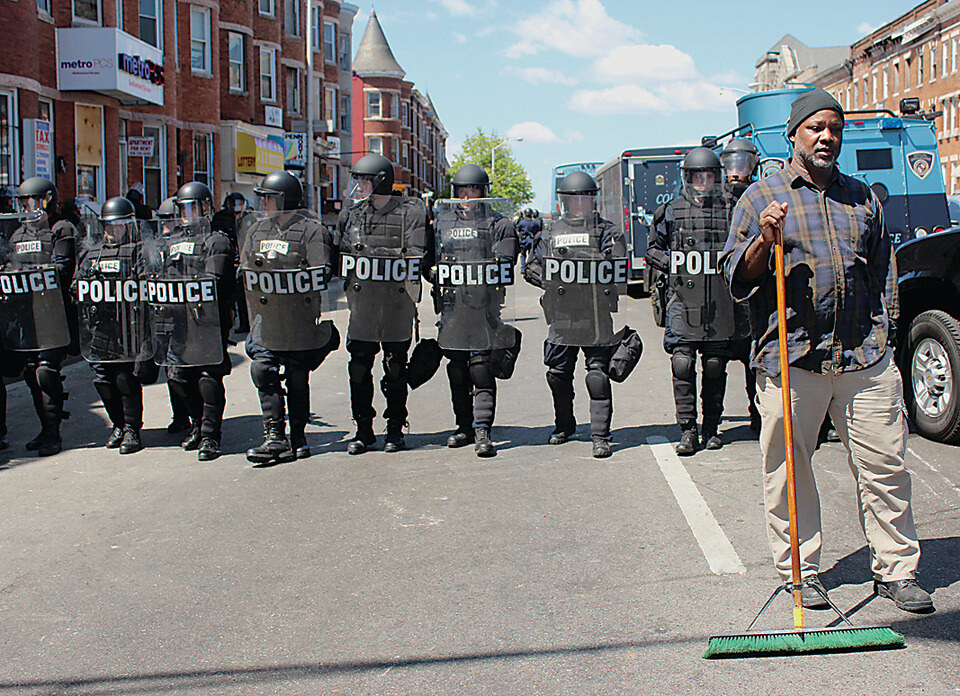 –Lara Davidson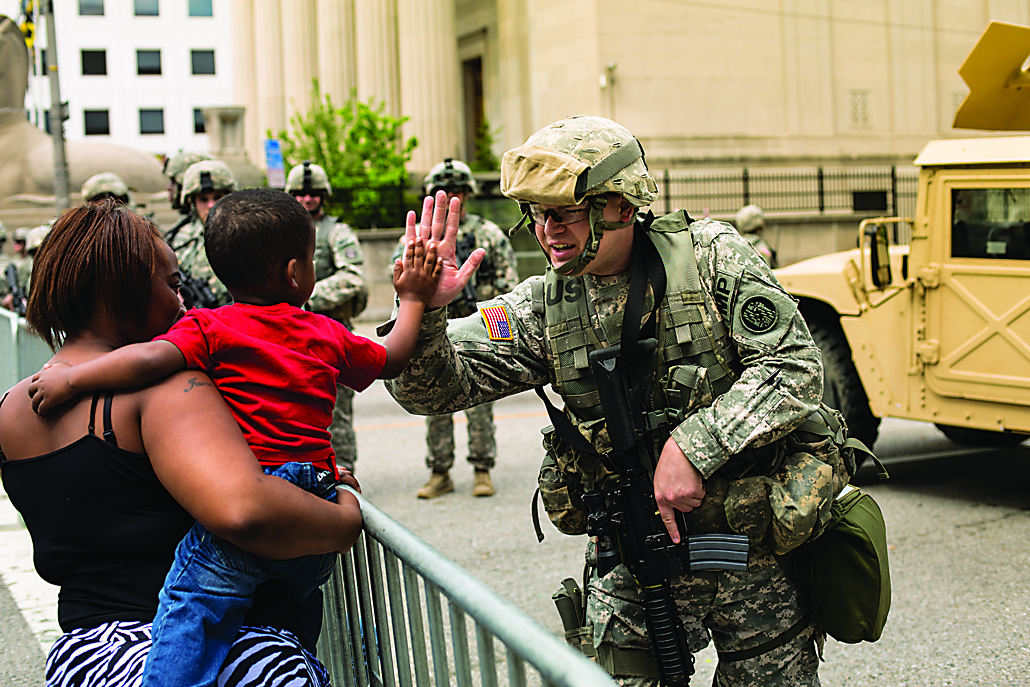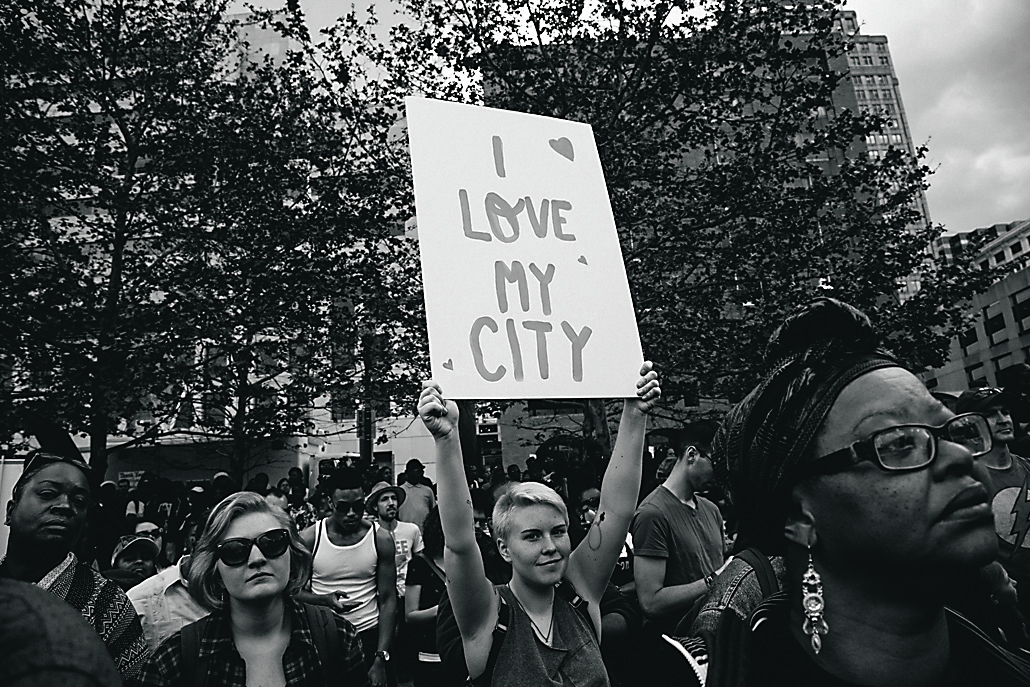 – Sean Scheidt
We have to go back nearly 50 years to another April, in 1968–after the assassination of Martin Luther King Jr.–to find a time when the city dealt with a crisis comparable to the one it faced this past spring. The riots and public uprising that followed the death of 25-year-old Freddie Gray from injuries endured while in police custody shook Baltimore to its core and changed the way the world saw us–and we saw ourselves. Gray's death–ruled a homicide by the state medical examiner's office–lit a fuse that continued to burn for days, fueled by decades of social and economic injustice in many of the city's poorest African-American neighborhoods.
Gray's death on April 19, following a week in a coma after suffering a severe spinal-cord injury–allegedly during a so-called "rough ride" in a police transport van–sparked two weeks of unrest, including the violent night of Monday, April 27, that culminated in hundreds of arrests, injuries to numerous Baltimore police officers, and the destruction of dozens of local businesses. During the surreal aftermath, Mayor Stephanie Rawlings-Blake implemented a citywide curfew and Gov. Larry Hogan deployed heavily armed Maryland National Guard troops and armored vehicles to patrol downtown.
Of course, Gray's death hadn't occurred in a vacuum, but came on the heels of the widely publicized deaths of black men at the hands of police officers in Ferguson, MO; Staten Island, NY; Cleveland, OH; and elsewhere. In the months leading up to the unrest, alarming local police-brutality issues also were raised in compelling reporting by The Sun's Mark Puente. Subsequent protests ultimately led to the firing of Baltimore Police Commissioner Anthony Batts and likely influenced Rawlings-Blake's decision not to seek re-election.
One difference in Baltimore, as opposed to the aforementioned cities, is that six police officers–whose trials remain in various stages–were quickly charged for their alleged roles in Gray's death by then-newly elected city state's attorney Marilyn Mosby.
Kevin Davis, the city's new Police Commissioner, recently told Baltimore that he hopes 2015 will mark a turning point in relations between the police department and aggrieved communities–and the city as a whole.
"This is a transformative moment for the City of Baltimore, and I will continue to urge my neighbors to remain peaceful while continuing to seek justice for Freddie Gray."U.S. Representative Elijah Cummings, 5/1
---
2. Marilyn Mosby's Star Turn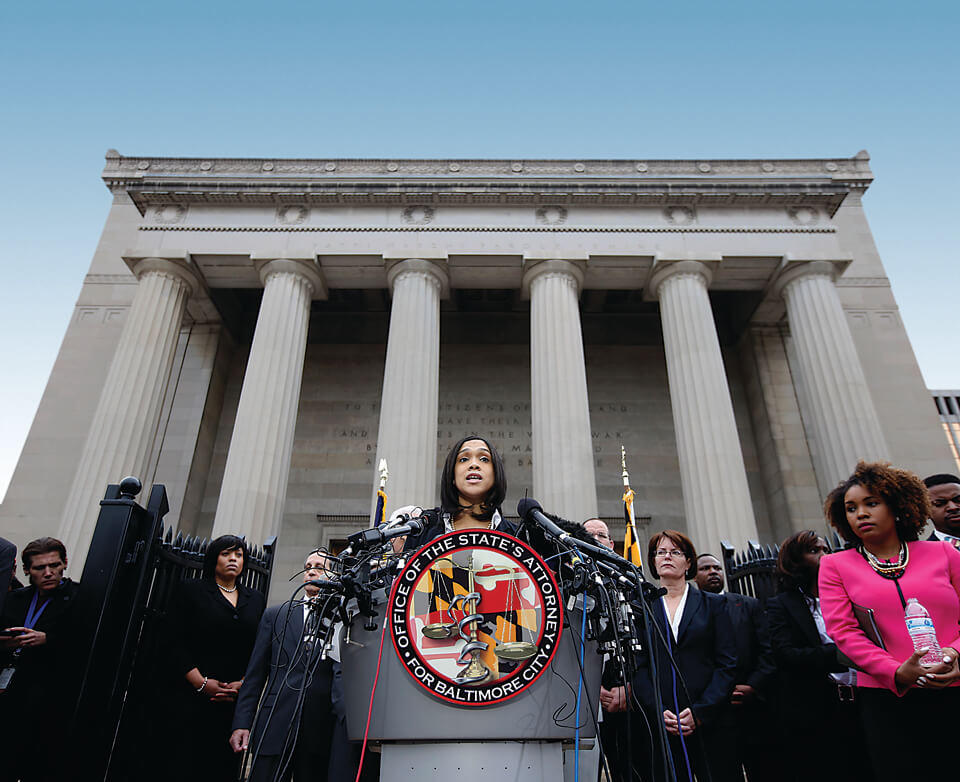 –Alex Brandon/AP
It's not every day that a city state's attorney becomes a national celebrity. But Marilyn Mosby's speedy indictments of six police officers in the death of Freddie Gray and her self-assured announcement of those charges at a frenzied press conference in front of the city's War Memorial Building, thrust the attractive, 35-year-old mother of two into the limelight just months into her tenure. For better or worse, Mosby subsequently appeared in the pages of Vogue in a shoot by famed fashion and art photographer Annie Leibovitz, and gave interviews to Cosmopolitan and Marie Claire. She also took the stage alongside her husband, City Councilman and now-mayoral candidate Nick Mosby, during Prince's Rally 4 Peace concert at Royal Farms Arena. Whether Marilyn Mosby is ultimately viewed as a heroine or another ambitious, over-reaching politician will likely depend on how her office handles the cases against the officers.
"To the people of Baltimore and the demonstrators across America: I heard your call for 'no justice, no peace.'"Marilyn Mosby, 5/1
---
3. Homicides Spike Following Freddie Gray Unrest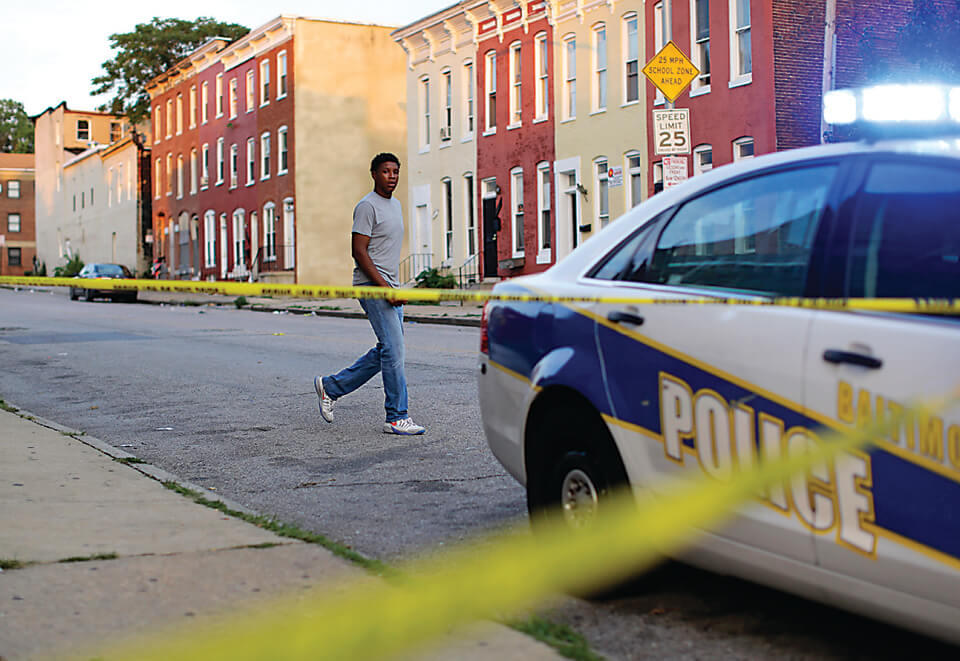 –Patrick Semansky/AP
After the death of Freddie Gray from injuries suffered while in police custody, Baltimore saw a surge in homicides the likes of which it hasn't witnessed since the 1990s. Almost inconceivably, the city matched 2014's homicide total of 211 on August 19 when a man with a bullet wound was found inside a vacant house not far from the Pennsylvania Avenue CVS store that burned in the riots. While it's impossible to say with certainty what has driven the increased violence–also witnessed in other cities across the U.S. this year–Baltimore had recorded a typical number of homicides (65) prior to the unrest. Afterward, however, a four-decade high of 43 murders in May was followed with 45 killed in July. By November, the tally was 285, putting the city close to the record pace of 1993 when 353 people were murdered, and once again placing Baltimore among the most dangerous cities in the country.
"It's the toughest job in the United States at the moment." Eugene O'Donnell, John Jay College of Criminal Justice professor and a former New York City police officer, on the challenge facing then-interim Baltimore Police Commissioner Kevin Davis, AP, 7/9
---
4. Mayoral Race Thrown Wide Open as Rawlings-Blake Forgoes Re-election Campaign
In a stunning turn of events, Mayor Stephanie Rawlings-Blake announced in September that she would not seek re-election in the 2016 mayoral race, saying that she would dedicate the remainder of her term to helping the city recover from the Freddie Gray unrest. Many suggested that she was simply bowing out of a race she could no longer win. But whatever her motives, the announcement threw already-announced candidates–including former Mayor Sheila Dixon, State Senator Catherine Pugh, and City Councilman Carl Stokes–into overdrive and opened the door for other hopefuls. In late October, City Councilman Nick Mosby (also the husband of city state's attorney Marilyn Mosby) entered the race. Then, in November, David Warnock, a venture capitalist and the chairman of the Greater Baltimore Committee, declared his candidacy. It's impossible to tell who will prevail in the April 26 Democratic primary, which, in heavily Democratic Baltimore, amounts to the general election–but we've sure got ourselves a horserace.
"It is a more wide open race today than it was yesterday." State Delegate Sandy Rosenberg to The New York Times on 9/11, the day Stephanie Rawlings-Blake announced she would not seek reelection.
---
5. Red Line to Nowhere
Anyone who followed Gov. Larry Hogan's campaign shouldn't have been surprised when he canceled Baltimore's planned, $2.9 billion mass-transit project in June. Hogan had said all along that he didn't support the decade-in-the-making, 14-mile, east-west Red Line effort. When he hired Pete Rahn, a road builder from New Mexico, as his transportation secretary, the die was cast. Still, Hogan's official rejection of $900 million in approved federal funding for the light rail system seemed to catch Baltimore's elected leaders off guard, while delivering a crushing blow to a city in need of good news and economic development. When the Hogan administration later released its state road and highway improvement plans–in large part funded from Red Line savings–and Baltimore was left off the map, it seemed a telling slip that revealed the governor's political agenda.
"Every other county shows investments being made, and Baltimore is literally and figuratively a gaping hole."State Senator Bill Ferguson, a Baltimore Democrat, to The Sun, 6/25
---
6. Orioles Play to an Empty Stadium
–Meredith Herzing
Baseball has been played professionally in this country since the 1800s, so it's rare to hear about any unprecedented event in the sport. But 2015 was a year of firsts for Baltimore. After canceling two previous Orioles games, the league announced that the April 29 game against the Chicago White Sox would be played in a closed stadium–a first in MLB history. This was, of course, days after protests and riots damaged businesses surrounding Camden Yards, and MLB Commissioner Rob Manfred said, "these decisions are in the best interests of fan safety and the deployment of city resources." Closed to the public, the only people inside the stadium were players, staff, and media (more national media than we've ever seen at Camden Yards, including during a playoff series). The entire experience was surreal, but the strangest thing was what you suddenly could hear: players cheering from the dugouts, outfielders calling for balls, umps making third-strike calls, and balls smacking into fielders' gloves. Not surprisingly, Birdland couldn't be tamed completely that day, as fans–just outside the left-center field gates–chanted "O-R-I-O-L-E-S" and steadily cheered their team to an 8 to 2 win.
"It's not an easy time for anybody right now. It doesn't matter what race you are. We need this game to be played, but we need this city to heal first."Orioles center fielder Adam Jones, 8/29
---
7. Gov. Hogan Diagnosed with Cancer
Only months after his upset victory over then-sitting Lt. Gov. Anthony Brown, Gov. Larry Hogan announced he had been diagnosed with a "very aggressive" cancer. In a June press conference, Hogan said he was told by doctors that the B-cell non-Hodgkin's lymphoma had spread quickly to his neck, chest, groin, and abdomen. He also had been told, however, that he had a "strong chance of survival," and he vowed to continue his duties while undergoing treatment. And he has, winning the admiration of the public: A Goucher College poll released in October found 54 percent of those surveyed felt favorably about Hogan, a 21 point increase from the college's previous poll in February. Those are pretty good numbers in a state where Democrats outnumber Republicans 2 to 1. The former real-estate executive, 59, who was elected on a promise to curb spending and roll back tax increases, recently completed his last round of chemotherapy, and now hopes to regain his strength–and his hair.
"All of the experts tell me that they believe that I'll come out of that completely clear. They also tell me it's gonna beat the hell out of me." Gov. Larry Hogan at a press conference, 6/22
---
8. Senator Barbara Mikulski Retires
In a move that shocked many Marylanders, long-serving Democratic U.S. Senator Barbara Mikulski announced on March 2 that she would not be seeking a sixth term. The Highlandtown native, a social worker-turned-U.S.-Representative-turned-Senator, has served in Congress longer than any other woman in history, and is beloved for her unpretentious, dogged, and feisty ways. Known as the Dean of the Women, she serves as a mentor to other women in the Senate and was also the first woman to chair the prestigious Senate Appropriations Committee, where she is now the ranking member. Her announcement left local politicos scrambling and, so far, only two candidates–U.S. Representatives Donna Edwards and Chris Van Hollen–have thrown their hats into the ring. (U.S. Representative Elijah Cumming also hasn't ruled it out.) In a way, this makes sense. The diminutive Mikulski may have small feet, but she has enormous shoes to fill.
"Do I spend my time raising money, or do I spend my time raising hell? Remember, for the next two years I will be here, working the way that I do." Senator Barbara Mikulski, at the press conference announcing her retirement, 3/2
---
9. American Pharoah Wins Preakness En Route to Triple Crown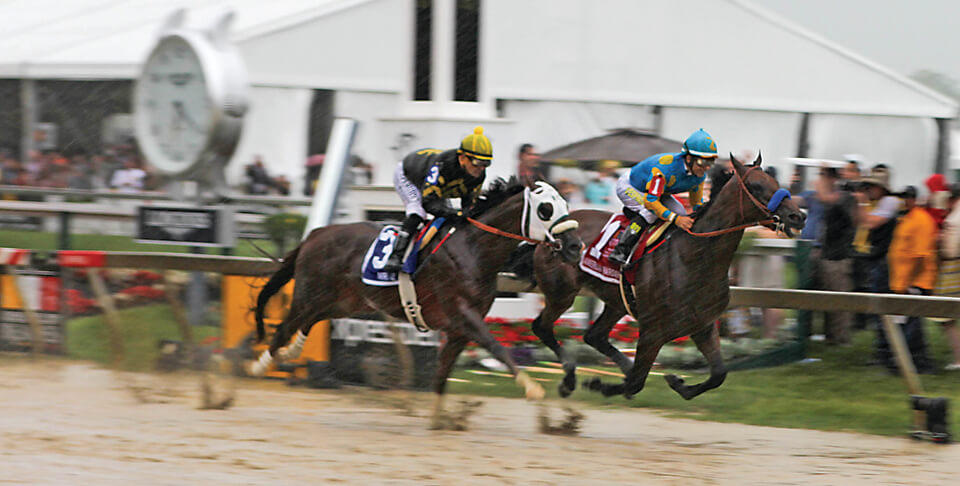 –Meredith Herzing
The rain streaked down that mid-May afternoon–and then, so did American Pharoah. Baltimore watched with baited breath as the Kentucky Derby-winning colt took an almost immediate lead and barreled down a swampy Pimlico track toward the 140th Preakness Stakes' winner's circle–and eventually the Belmont Stakes and the elusive Triple Crown. Forgetting the weather, the record-setting crowd went wild and jockey Victor Espinoza beamed as he slowed to a canter, thrusting his crop triumphantly in the air. In a time of speculation that the race might move to Laurel Park and just a few weeks after the social upheaval that followed the death of Freddie Gray, it was, despite the torrents, a bright moment in an otherwise gloomy spring.
"What a day for Baltimore. They really needed this after all they've been through."American Pharoah trainer Bob Baffert, The Sun, 5/16
---
10. Kevin Plank Buys Port Covington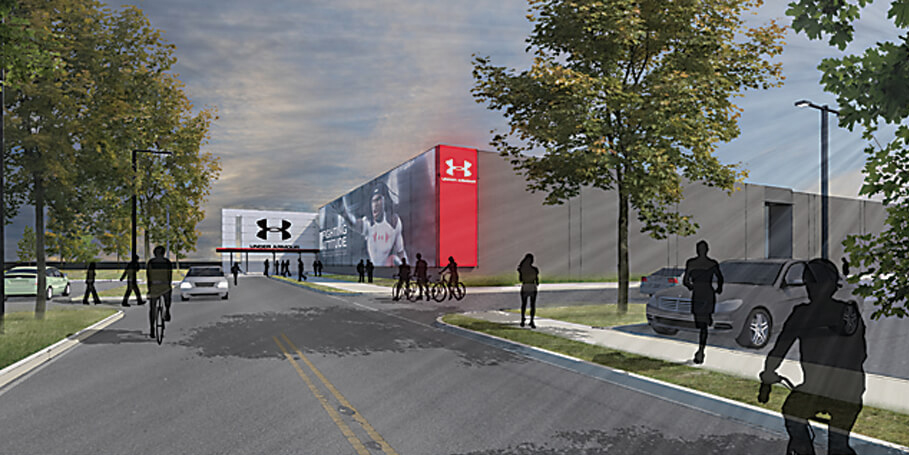 –Courtesy of Under Armour
The days of easy parking in Port Covington are numbered. Sagamore Development, the real-estate investment firm controlled by Under Armour CEO Kevin Plank, purchased the 128-acre industrial area in early 2015 and has announced big plans for the under-utilized commercial/industrial hub. These include a new campus for Plank's booming sportswear company, which last year earned revenues in excess of $3 billion and is outgrowing its Tide Point headquarters. Eventually, the project will include mixed-use development as well, such as an Under Armour retail store and residential units, but first Plank will be mixing up some good hooch: A whiskey distillery slated to open in late 2016 will produce Sagamore Spirit whiskey brand. The distillery complex also will include a 10,000-square-foot restaurant and a barn that will house the city's mounted police unit. Public records say Plank paid about $90 million for the tract, which is off Interstate 95 on the Middle Branch of the Patapsco River. Currently, it is the site of a Walmart. We call this an upgrade.
"People said, 'You should look at the county or Pennsylvania.' That's not really our bag. We're of this city, from this city, and we're going to build something great in this city." Kevin Plank in the Baltimore Business Journal , 3/2
---
11. Gov. Hogan Closes Jail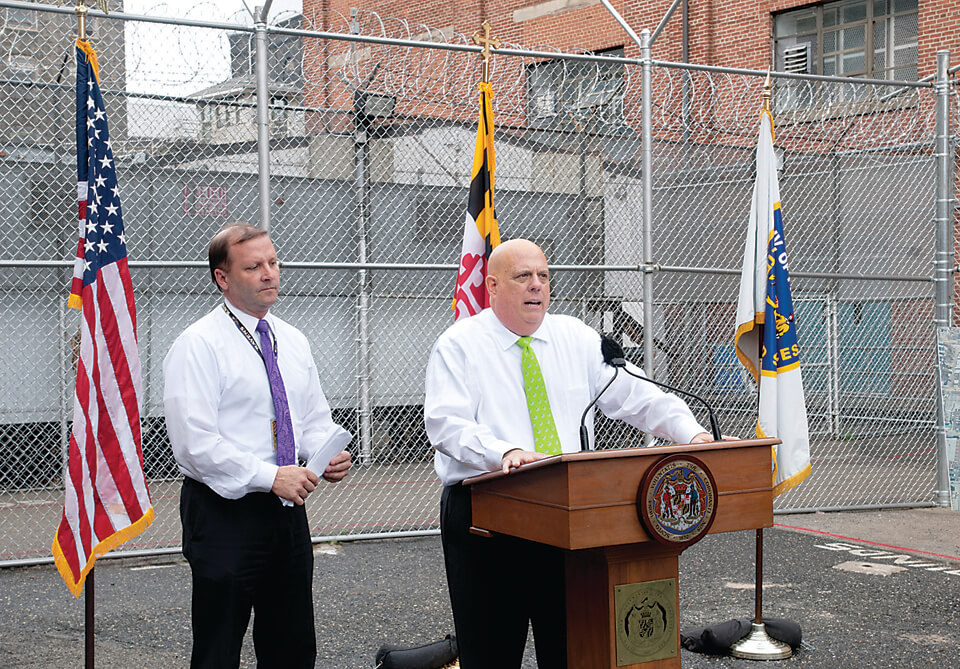 –Office of the Governor
"Today, I have instructed Secretary [of Public Safety & Correctional Services, Stephen T.] Moyer to immediately shut down the Baltimore City Men's Detention Center," Gov. Hogan said in a July 30 press conference outside the turreted jail that towers ominously over East Baltimore. And with that, a corruption-plagued, vermin-infested chapter in Baltimore's history came to an abrupt end. By late August, the remaining inmates at the state-run jail had been moved to other facilities. Though Hogan's announcement ruffled a few feathers–Mayor Stephanie Rawlings-Blake was caught unaware and Hogan wasn't shy about blaming the jail's failures on previous administrations–few quibbled with the act. Some parts of the jail pre-date the Civil War, and it showed. Plus, it was a hive of corruption. Most recently, the leader of the Black Guerilla Family gang had impregnated guards and run a drug-smuggling operation while incarcerated. For most, closing the jail wasn't a matter of good-bye so much as it was good riddance.
"I could barely stomach it." Stephen T. Moyer in The Sun, 8/27
---
12. Washington Monument Renovation Unearths Two Time Capsules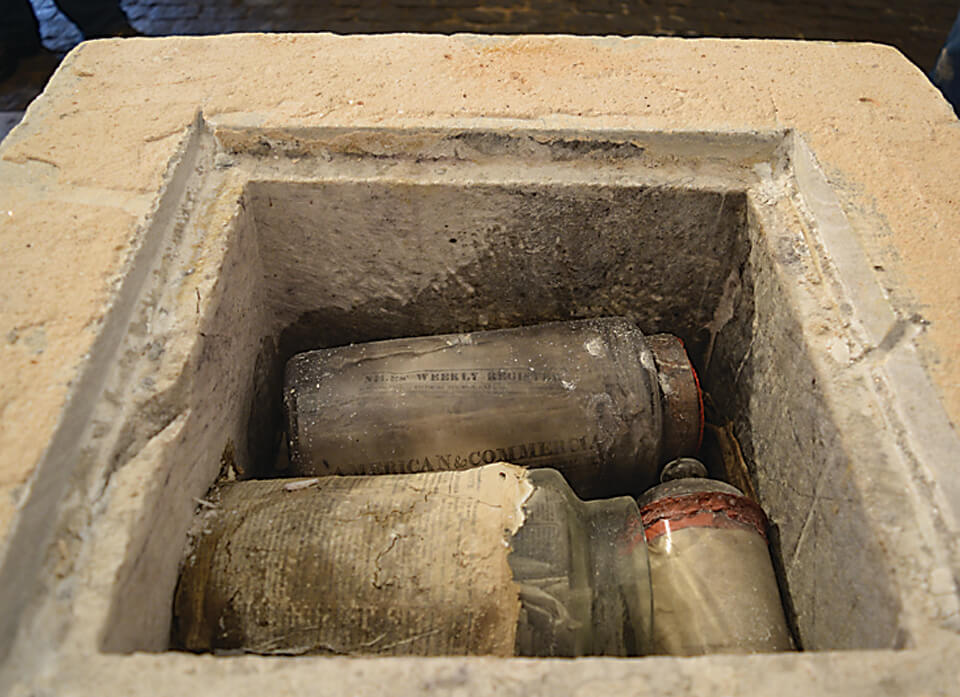 –Mount Vernon Place Conservancy
The past was very much present during the renovation of Baltimore's Washington Monument. The 18-month, $5.5 million project involved painstaking restoration work on the 200-year-old column and culminated in a grand reopening celebration on the Fourth of July. But the journey to that point was equally momentous. In October 2014, workers discovered a time capsule dating to 1915. Then, in February of this year, crews found a second capsule that had been laid in the monument's cornerstone in 1815. Naturally, the public was fascinated. And while the contents of the capsules proved prosaic–coins, newspaper clippings, likenesses of historical figures such as Francis Scott Key and, naturally, George Washington–the discoveries provided a link to our collective past and prompted reflection on what we can leave for future generations.
"You just felt these people in 1815 taking those [newspapers] and putting them in this container and burying them.Lance Humphries of Mount Vernon Place Conservancy to WBAL, 2/18
---
13. Martin O'Malley and Dr. Ben Carson Mount Presidential Campaigns
– Justin Sullivan/Getty Images, Joe Raedle/Getty Images
To us, they're just Marty and Ben, a city councilman-turned-mayor-turned-governor and a world-famous Johns Hopkins pediatric neurosurgeon, respectively. For decades, their blandly handsome mugs have been staring out at us from billboards, TV commercials, and the covers of countless magazines (including this one). But now the rest of the country is meeting them as presidential candidates–and responding with varying degrees of interest. Carson, who is vying for the Republican nomination, is, as of this writing, surging in the polls in Iowa in advance of that state's influential January caucuses. O'Malley, on the other hand, seems stuck in the back of the Democratic pack, overshadowed by the fame of Hillary Clinton and the populist momentum of Bernie Sanders. But that hasn't stopped him from using every weapon in his political arsenal–including his, um, guitar. He covered Taylor Swift's "Bad Blood" on The View in October, and yet his poll numbers remain in the single digits. Maybe try "Shake It Off" next time, Marty!
"Whatever the polling is today never reflects what they ultimately decide."Martin O'Malley, Bloomberg Politics, 10/27
---
14. Molly Shattuck sentenced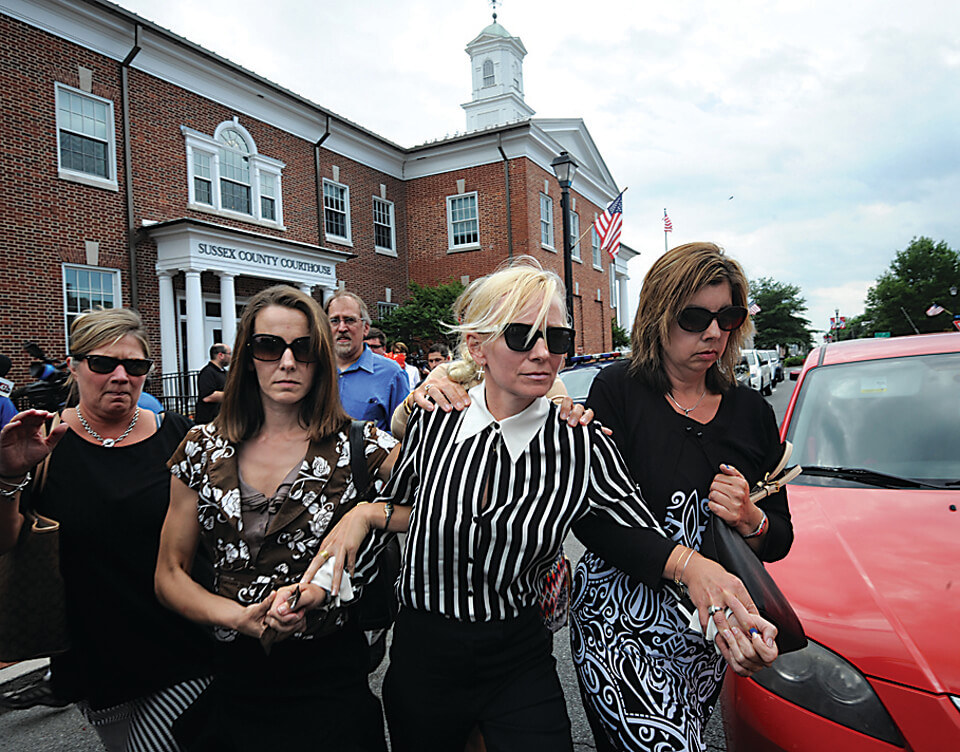 –Algerina Perna/The Baltimore Sun/AP
Even before the news broke late last year, it was the worst-kept secret in Baltimore: Forty-eight-year-old Molly Shattuck, the ex-wife of former Constellation Energy CEO Mayo Shattuck, had performed oral sex on a 15-year-old boy, a schoolmate of her son's at an exclusive private school in Baltimore County. The ugly truth was confirmed in June when she pleaded guilty to fourth-degree rape. Then in August, a judge sentenced the former Ravens cheerleader to 15 years in prison, with all but two years suspended. She was ordered to spend 48 alternating weekends in a detention facility in Delaware, the state in which the rape occurred. Many saw the sentence as a mere slap on her tiny wrist, but by September, Shattuck was dividing her days between a no-frills cell in jail and her well-heeled home in Baltimore. "I take full responsibility for what I did," Shattuck sobbed in court. "I was the adult."
"Miss Shattuck is a criminal. She admits to being a rapist. . . . She must be held responsible."The victim's mother, The Sun, 8/21
---
15. Doreen Bolger Bids Farewell to the BMA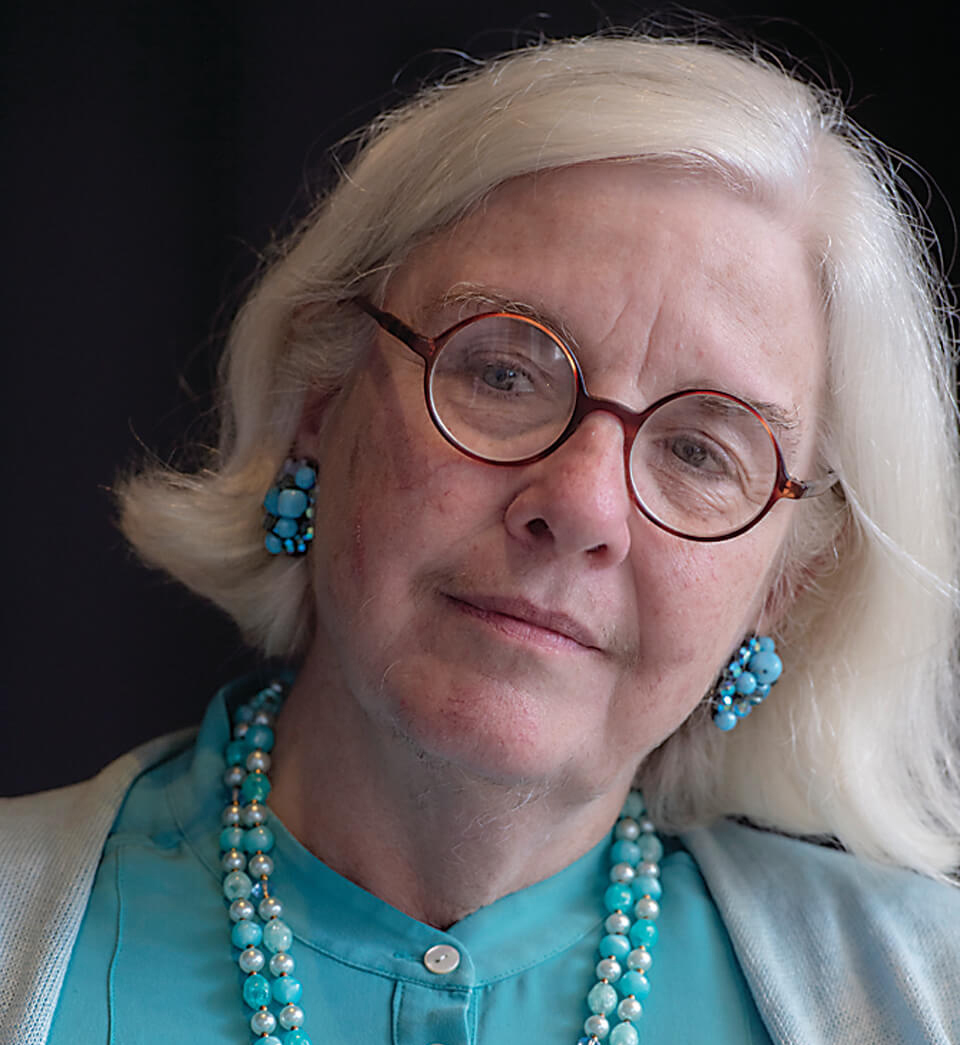 –David Colwell
She was known throughout Baltimore for attending fancy galas and Station North warehouse shows alike. She championed free admission at The Baltimore Museum of Art, and it was under her direction that the museum re-opened its historic doors to the public–both literally and figuratively. Bolger oversaw an unprecedented $28 million renovation that aimed, in part, to make art more accessible to everyone. When she announced she was retiring after 17 years, there was plenty of sadness in the arts community. But she went out with a bang at a party at the BMA in June, seated on a flaming throne as members of the Baltimore Rock Opera Society performed and revelers helped paint a mural designed by renowned street artist Gaia. Better still, Bolger assures us she intends to remain here and continue to advise the BMA as it attempts to find her successor.
"Doreen has transformed The Baltimore Museum of Art into one of the most dynamic and innovating cultural institutions in the country. . . . Her wisdom and experience will be missed." Christine Anagnos, executive director of the Association for Art Museum Directors, 4/8
---
16. Spike Gjerde wins James Beard Award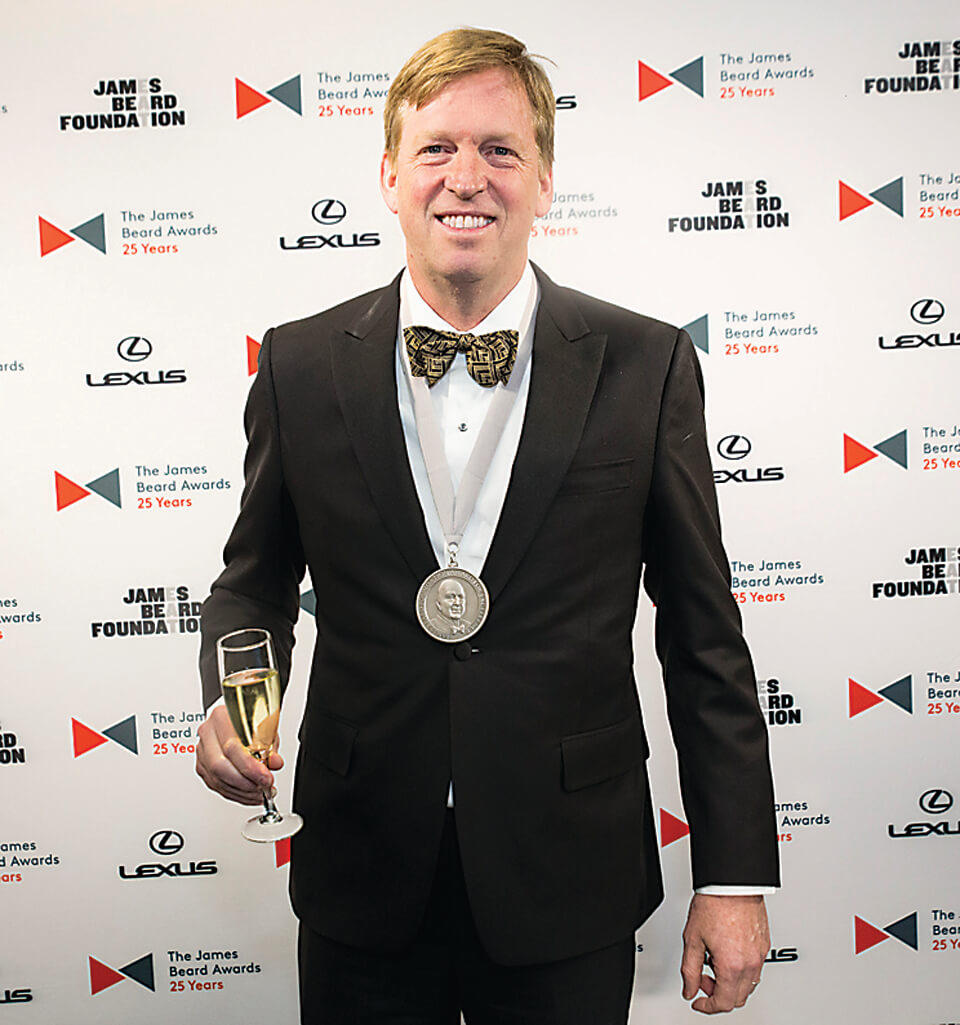 –Galdones Photography/James Beard Foundation
For Woodberry Kitchen owner Spike Gjerde, who in May won the coveted James Beard Award for Best Chef: Mid Atlantic, the third time was the charm. Going toque-to-toque against Charleston's Cindy Wolf, this was the farm-to-table chef's third consecutive year as a finalist. And his win was the first James Beard Award ever given to a Baltimore chef. Speaking by phone from Chicago, where the awards were doled out, he told us that when his category was called, "I just closed my eyes–it was a magical moment." The ensuing months have been a little less magical, however. In June, two Woodberry Kitchen pastry chefs slapped a suit against Watershed LLC (the parent company of Woodberry Kitchen, Artifact, and Parts & Labor) over unfair wages. Turns out, most medals tarnish with time.
"I just felt it was really great validation for Woodberry and for Baltimore as a city."Spike Gjerde, The Sun, 5/6
---
17. Millennial Media Acquired by AOL
Millennial Media, one of Baltimore's better-known homegrown tech startups, got swallowed up by AOL in September in a $238 million deal that could turn around the mobile advertising firm's plummeting profitability. AOL, which itself was acquired by Verizon in June for $4.4 billion, could also benefit from the deal by being better able to compete with other big media companies, such as Google and Facebook, on mobile platforms. Notably, the $238 million was about one-eighth of Millennial's market value on the day of its IPO in 2012. Since then, the stock price has slid downward with the company losing $149 million last year and $35 million in the first half of this year. It also remains to be seen what the acquisition means for the combined 450 staffers in the local AOL and Millennial Media offices.
"I think the deal was great for AOL/Verizon and probably viewed [as] so-so for Millennial."John Ferber, co-founder of Advertising.com, the former Baltimore startup also acquired by AOL, The Sun, 9/3
---
18. Veep Vacates Maryland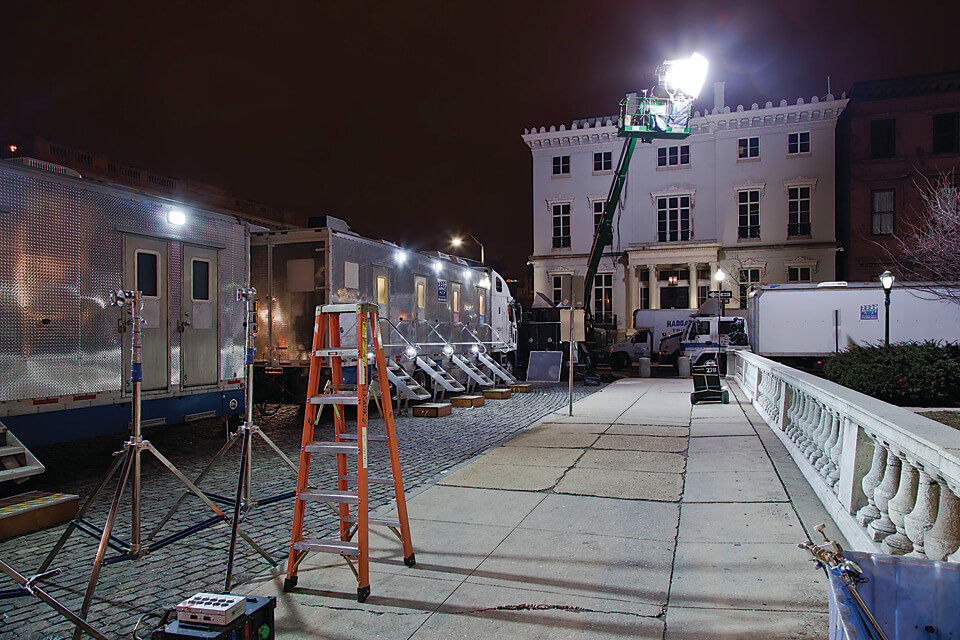 – Pat Gavin
No more Julia Louis-Dreyfus sightings at Whole Foods. No more trying to suss out when Baltimore is standing in for D.C. No more moments of "Hey, that's my favorite bar on TV!" On June 18, HBO announced that it would be moving production of Veep, the Emmy-award-winning political comedy, from Maryland to Los Angeles for the show's fifth season. As is so often the case, money was the deciding factor. Veep was granted $6.5 million in tax credits by the California Film Commission. After the show won Outstanding Comedy Series at the 2015 Emmys, Veep cast member Timothy Simons tweeted: "Love to our Baltimore crew. We love and miss you. This is impossible without you. Thanks for everything." No Veep, thank you.
"The producers and HBO would like to thank Maryland for making the last four seasons of Veep such a success. We look forward to returning with another production in the future."statement from HBO announcing Veep was leaving Maryland, 6/18
---
19. CLUB Hippo Closes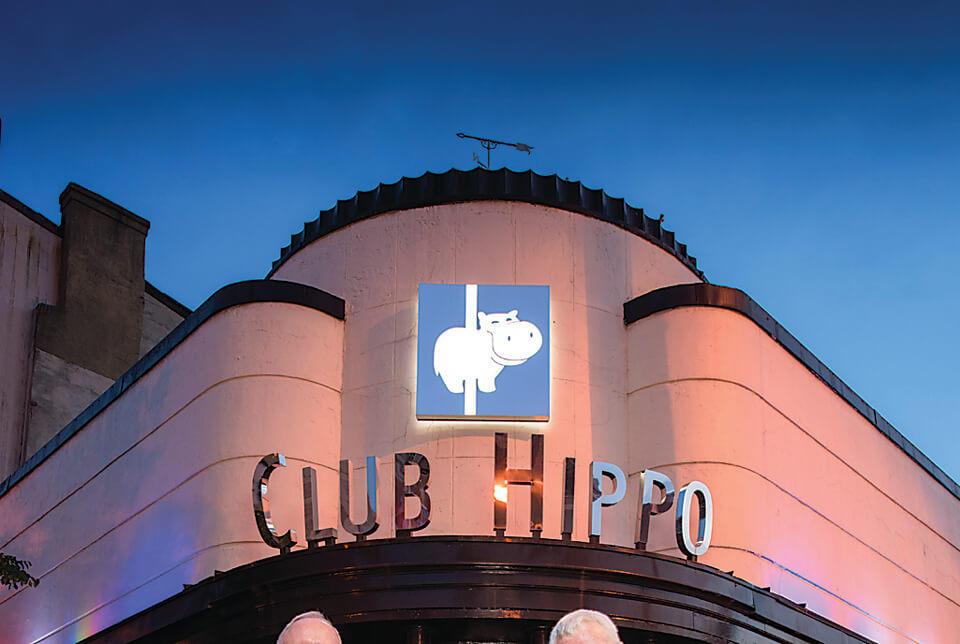 –Mike Morgan
In what was arguably one of the best years for the LGBTQ community, Baltimore suffered a loss when the news broke in May that Club Hippo would close. After more than four decades as an anchor of Baltimore's gay scene, owner Chuck Bowers decided it was time to retire, and, in early October, he shut the iconic nightclub's doors for good. Opened in 1972, the Hippo served as a safe haven for all walks of life through times of adversity, including the AIDS epidemic. It was a comfort zone, where people could be themselves without fear or judgment. And sometimes that meant howling "What's Up?" by 4 Non Blondes with a bunch of your closest friends in its beloved karaoke room, or catching the latest drag show on the dance floor. Of course, the Hippo couldn't go out without one last big party, which it held on September 26 as a packed dance floor boogied to one last song ("It's Raining Men" by The Weather Girls, of course). After 43 years of acceptance, enlightenment, and pure entertainment, the Hippo is now gone, but not forgotten.
"Chuck Bowers, the staff and management of the Hippo want to thank everyone who supported us over the past 43 years! Just remember, 'The enchantment has ended but the SPELL remains.'"Club Hippo Facebook page, 10/5
---
20. Episcopal Bishop Kills Cyclist
On New Year's Day, more than 1,000 cyclists gathered for a silent memorial ride up Roland Avenue in honor of popular Baltimore bike builder Tom Palermo, who had been killed in a drunken hit-and-run accident just days prior. Per cycling community tradition, a white-painted "ghost bike" was chained to a pole near the crash location, with flowers and candles placed around the makeshift memorial. The driver of the car that killed Palermo, Episcopal Bishop Heather Elizabeth Cook, pleaded guilty to automobile manslaughter in September and was sentenced to seven years in prison in October. Meanwhile, organizations such as Bikemore, the city's nonprofit bicycling advocacy organization, and Bike Maryland continue to press for tougher penalties for negligent drivers and safer roads for cyclists.
"Last Saturday was a beautiful day and Rachel [Palermo's wife], realizing how busy they had been, suggested to Tom that he do what he loved and go out for a ride."Jeff Hulting, at brother-in-law Tom Palermo's memorial ride, talking about the day Palermo died, Baltimoremagazine.net , 1/2
Honorable Mentions:
More Moments That Mattered
In January, President Obama used Charmington's coffeehouse in Remington as the backdrop for an appearance promoting paid sick leave. His appearance thrilled onlookers and staff, especially when a presidential aide left a $30 tip on a $60 bill.
West Baltimore photographer Devin Allen landed the cover of Time magazine in April with his snap of a young black man fleeing a horde of police officers during the unrest following the death of Freddie Gray.


Buck hated it, but everyone else recognized the brilliance of the O's promotional Buck Showalter garden gnome. #SHOWtheGnome, indeed.
In July, several cast members from The Wire reconvened at Artscape to discuss the Freddie Gray unrest and honor community leaders. It was great to see that Omar, Kima, Bubbles, Dukie, Snoop et al. hadn't forgotten from whence they came.
One Direction minus one (fare thee well, Zayn!) rolled into M&T Bank Stadium in August for the teenybopper concert of the year.
A man in a crowd outside the Republican presidential debate in Cleveland in August waved a sign asking, "Is Joe Flacco A Elite Quarterback?" for MSNBC cameras. The image went viral and inspired a new round of earnest philosophizing on Flacco's eliteness.
In July, 8-year-old Zion Harvey of Owings Mills became the first pediatric patient to receive a double hand transplant.
Baltimore's fecund indie-rock scene—including Future Islands, Beach House, and Dan Deacon—proved its drawing power with a sold-out concert at Pier Six Pavilion in August.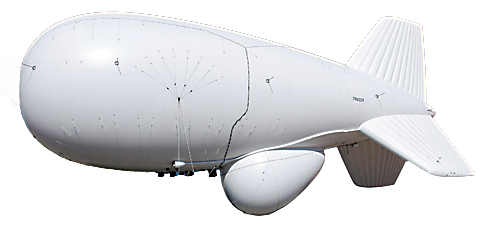 In October, one of two blimp-like surveillance crafts floating above Aberdeen Proving Ground came unmoored and drifted into Pennsylvania. The absurd, slow-motion chase—and the memes it spawned—had the Internet ROFLMAOing.
Union Memorial orthopedic surgeon Dr. Lew Schon got to live out his rock star fantasy this July when he joined the Foo Fighters on stage in Boston to perform The White Stripes' "Seven Nation Army." He got the gig through his patient—Foo Fighters frontman Dave Grohl.