News & Community
Protests Growing After Judge Declares Mistrial in Porter Case
Police arresting protestors and emotions rising, as politicians urge demonstrators to keep the peace.
By Jess Mayhugh. Posted on December 16, 2015, 4:49 pm

Protests grow outside of courthouse after judge announces mistrial in first trial of Freddie Gray case. -Photography by Ron Cassie
Immediately after a Baltimore City jury could not reach a decision in the trial of Officer William G. Porter on four charges related to the death of 25-year-old Freddie Gray, a group of protestors slowly grew outside the courthouse.
Following Judge Barry G. Williams declaring a mistrial Wednesday afternoon, tensions grew amongst demonstrators, as a scuffle broke out and at least one protestor was arrested and brought inside the courthouse.
"I'm mad. I'm upset. But I am also not surprised," said Justin Sanders, 32, of West Baltimore outside the courthouse. "How can anybody be surprised anymore?"

The mistrial was declared after the jury failed to reach a unanimous verdict to acquit or find Porter guilty of involuntary manslaughter, second-degree assault, misconduct in office, or reckless endangerment. Attorneys are due in court tomorrow to set a retrial date.
"It's part of the process," said community organizer J.C. Faulk outside the courthouse. "What the city is doing is delaying the inevitable." While clearly not happy with the court's ruling, he added, "Now is not the time to put bodies on the line."
Following the announcement, Mayor Stephanie Rawlings-Blake immediately released a statement, urging citizens to "respect the outcome of the judicial process . . . I urge everyone to remember that collectively our reaction needs to be one of respect for our neighborhoods, and for the residents and businesses of our city."
Congressman Elijah Cummings echoed the mayor's sentiment in a statement released Wednesday evening.
"With the eyes of the world on Baltimore City, we must ensure that any protests that take place are peaceful, and we must ensure that the process of healing our community continues," Cummings said in the statement. "We must continue to channel our emotions into strong, positive change, so that, as a city, we truly see our young men of color before it is too late."
Similarly, mayoral candidate and City Councilman Nick Mosby released a statement saying, "As a city, we must come together and continue the healing process of working to rebuild trust and improve community-police relations for the safety of residents and our police officers."

Gene Ryan, president of the Baltimore City Fraternal Order of Police, called the decision "obviously frustrating" in a statement.
"Officer Porter and his attorneys will continue, with the full support of the Fraternal Order of Police, to press for his acquittal," Ryan said.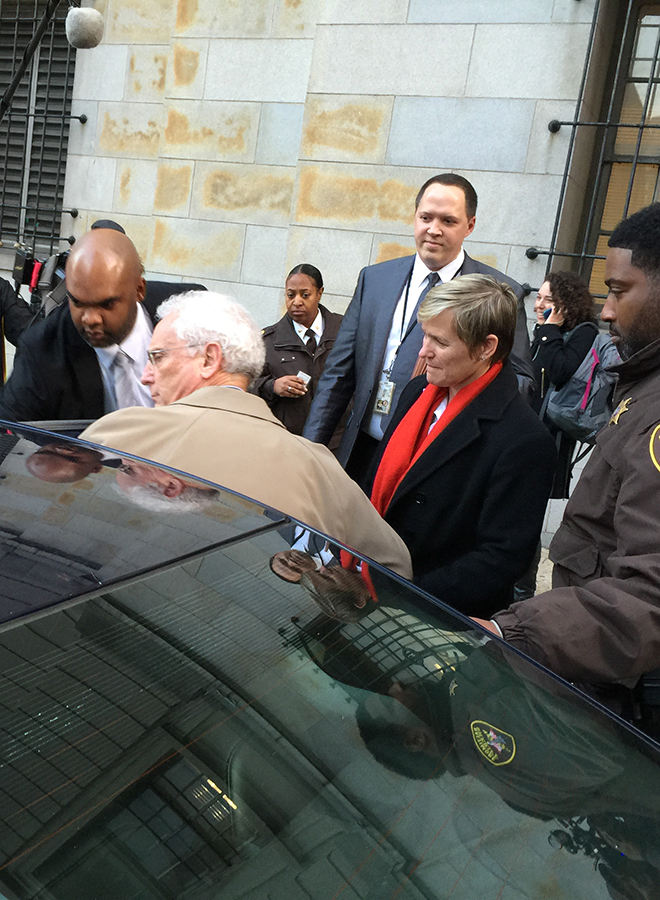 City State's Attorney prosecutors Michael Schatzow and Janice Bledsoe, pictured, left the courthouse without speaking to the media.

As Wednesday evening went on, protestors continued to march from the courthouse to City Hall, just a block away.
Amongst the demonstrators was City Councilman Carl Stokes, who said, to him personally, it was "most bothersome" that Porter's defense attorneys made the case that their client was not guilty because "nobody follows the rules," in terms of seat-belting arrestees in transport vans.
Stokes was also upset at the defense for putting all the blame on not securing Gray on the van driver and, ultimately, making the case that it didn't matter whether Porter called for medical assistance or not because Gray would not have survived his catastrophic injury regardless.
"[Porter] and his fellow officers are accountable and responsible for Freddie Gray's death," he said. "But there is a systemic issue as well. There is a culture that has developed within the police department that some of our citizens' lives are worthless."
Also following the trial closely was Tessa Hill-Aston, NAACP Baltimore chapter president.
"I'm disappointed," she said. "I sat in court each day and heard medical testimony and everything else. I know Freddie Gray was in pain. I heard testimony that made me cringe about the pain he was in. And nobody called for help. Somebody has to be responsible and accountable for that."
Hill-Aston added that she expects protests this evening in the city, but hopes no one will do anything that ends up in an arrest.
"We know what can happen to people when they get locked up," she said. "I don't want to see anyone else get hurt."
Additional reporting was contributed by senior editor Ron Cassie.
Jess Mayhugh is the digital editor for Baltimore, where she covers nightlife, sports, food, and events.
Read more from Jess Follow @jessmayhugh
---
Newsletters
Get fresh content delivered straight to your inbox.