Sports
Friday Replay: Snoop Dogg Really Hates the Ravens
And four other things that happened in Baltimore sports this week.
By Max Weiss. Posted on December 31, 2015, 10:46 am

-NewsFlow24.com
1. Snoop Dogg really hates the Ravens.
Boy oh boy, Snoop Dogg hates the Ravens. You see, he's a huge Steelers fan. (We're not totally sure why, since he's a SoCal guy—he must just have horrible taste in adopted teams.) Anyway, he expressed his dislike of the Ravens this week in a variety of colorful, extremely NSFW ways.
There was this post on Facebook before the game, followed by this post on Twitter, after the game, which the Ravens won, of course, 20 to 17, sweeping the season series.
But the pièce de résistance had to be this post on YouTube which he apparently recorded during the game.
Though, we do have to say, that it make the time Snoop visited Ravens practice and palled around with Ray Lewis all the more curious: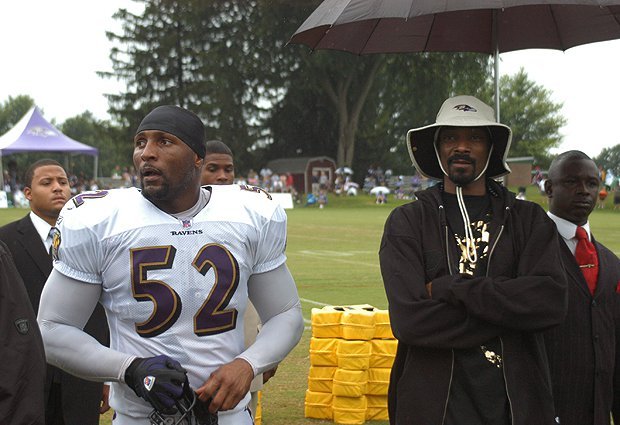 2. Fans wonder: Was it worth It?
A question that emerged this week, after the Ravens beat the Steelers, 20 to 17, knocking their arch rivals out of the playoffs: "Was it worth it?" After all, every win means the Ravens are less likely to get a high draft pick. Still, a brief survey of Twitter suggests that Ravens fans, indeed, thought it was totally worth it.
With the win on Sunday the #Ravens moved from 3 to 8 in the current draft order. Totally worth it
— Uk Ravens Nation (@ravens_uk) December 29, 2015
Ravens!! Totally screwed up our draft status but totally worth it. Later @Steelers!
— Kevin Ambrose (@ambrose024) December 27, 2015
Don't care about the draft pick I want the Ravens to beat the steelers
— 13 (@ChrisBinkowitz1) December 27, 2015
3. Steve Smith Sr. coming back
And the good news for Ravens fans just keeps on coming. A lot of Ravens fans were surprised when Steve Smith Sr. announced his retirement earlier this year. After all, the guy obviously has a passion for the sport and a lot of game left in him. And when he was lost for the season after tearing his Achilles on November 1, it seemed like a particularly anticlimactic and unfitting way for a warrior like Smith Sr. to go out. Well, the wide receiver apparently agrees. This week, the Ravens announced that Smith Sr. is recovering well from his injury and will be returning next season. Like any true champion, he wants to go out on his own terms.
P.S. Surprising absolutely no one, the Ravens also announced that QB Joe Flacco is ahead of schedule on his rehab from that nasty ACL/MCL tear and looks to be ready to go at the beginning of training camp next season. Does Baltimore have room for two famous Iron Men in this town?

4. Diamond Stone has a gem of a game.
Terps blue chip recruit Diamond Stone has shown flashes of brilliance this season, but has also shown flashes of, well, being a freshman—foul trouble, stretches of time where he disappears in games, slightly uninspired defense. But the stud center had a coming out party—in a big way—on Wednesday against Penn State, scoring 39 points (a Terps freshman record) and pulling down 12 rebounds. More impressively, he scored 32 of those points in the second half, essentially carrying the team on his back when the Terps needed him most. In College Park, Diamonds are definitely a fan's best friend.
5. The Baltimore Blast are 7-0.
The Orioles sputtered and the Ravens are having a season to forget. But at least there's one consistently winning franchise in town. Don't look now but the seven-time champion Blast are doing their thing again. A win against the Harrisburg Heat last week made them 7-0. To infinity . . . and beyond!
Max Weiss is the managing editor of Baltimore and a film and pop culture critic.
Read more from Max Follow @maxthegirl

---
Newsletters
Get fresh content delivered straight to your inbox.