---
Airport Food
Vino Volo
Once you've survived the pat down from Homeland Security and had a chance to put on your Pliners, head to Concourse A at Baltimore-Washington International Thurgood Marshall Airport where Vino Volo feels like a mirage in the middle of the mayhem. Choose from among a surprisingly substantial array of reds, whites, and rosés. And if you need more than nuts to make a meal, consider a preflight Brie and prosciutto sandwich or a cheese plate. This could almost make a person look forward to the airport. BWI, Concourse A, 410-691-2215
---
ALTERNATING Menu
Pen & Quill
While so many spots have jumped on the seasonal bandwagon, we're big fans of the market-driven New American menu at Pen & Quill in Station North. Chef Bella Kline understands that the hallmark of good cooking is a devotion to seasonally sourced ingredients. Arugula gets paired with strawberries, basil, and clotted cream in the throes of spring, while summer ushers in egg yolk ravioli and tomato beurre fondue, then soon surrenders to fall's pork cheeks glazed with miso. Next, it's onward to winter's rich repast of house-made burrata with marinated black-trumpet mushrooms, truffles, and crabmeat bathed in brown-butter vinaigrette. While it can be frustrating as favorite dishes flit on and off the menu, patience pays off. 1701 N. Charles St., 410-601-3588
---
Bagel Shop
Towson Hot Bagels
There's a reason they line up at the Timonium location on weekends like they're giving the bagels away. The bagels here are large, misshapen, chewy, and not too heavy. All the shmears (or cream cheeses, if you prefer), like sun-dried tomato or scallion, are made in-house. The bagel sandwiches—try the irresistibly gooey and greasy bacon, egg, and cheese—are so good, they recently inspired a loving homage from a writer at Gawker. Yes, the same Gawker that is published in New York City. Clearly, Towson Hot Bagels is giving Manhattanites a run for their money. Several locations, including 1810 York Rd., Lutherville, 443-841-7063
---
Bar Food
1157 Bar + Kitchen
Micro-restaurants have been trending in 2015, and the Locust Point spot 1157 Bar + Kitchen certainly qualifies. With 10 or so barstools, five two-tops, and a communal table, the place holds 30 people at a time—and doesn't take reservations. But rest assured, the cramped wait is worth it. Chef Jason Ambrose (co-owner of Salt) serves up bar food that's anything but typical: crunchy Korean chicken wings in a fiery chili sauce; curried Brussels sprouts tossed with fig vincotto (reduced wine sauce); plump mussels steamed in Pabst Blue Ribbon with garlic, green Tabasco, shallots, and butter; and stunning cheese plates with mild manchego and bold blue selections. While you're cleaning the last morsels off your plate, you'll wonder how such huge flavors fit into such a tiny space. 1157 Haubert St., 443-449-5525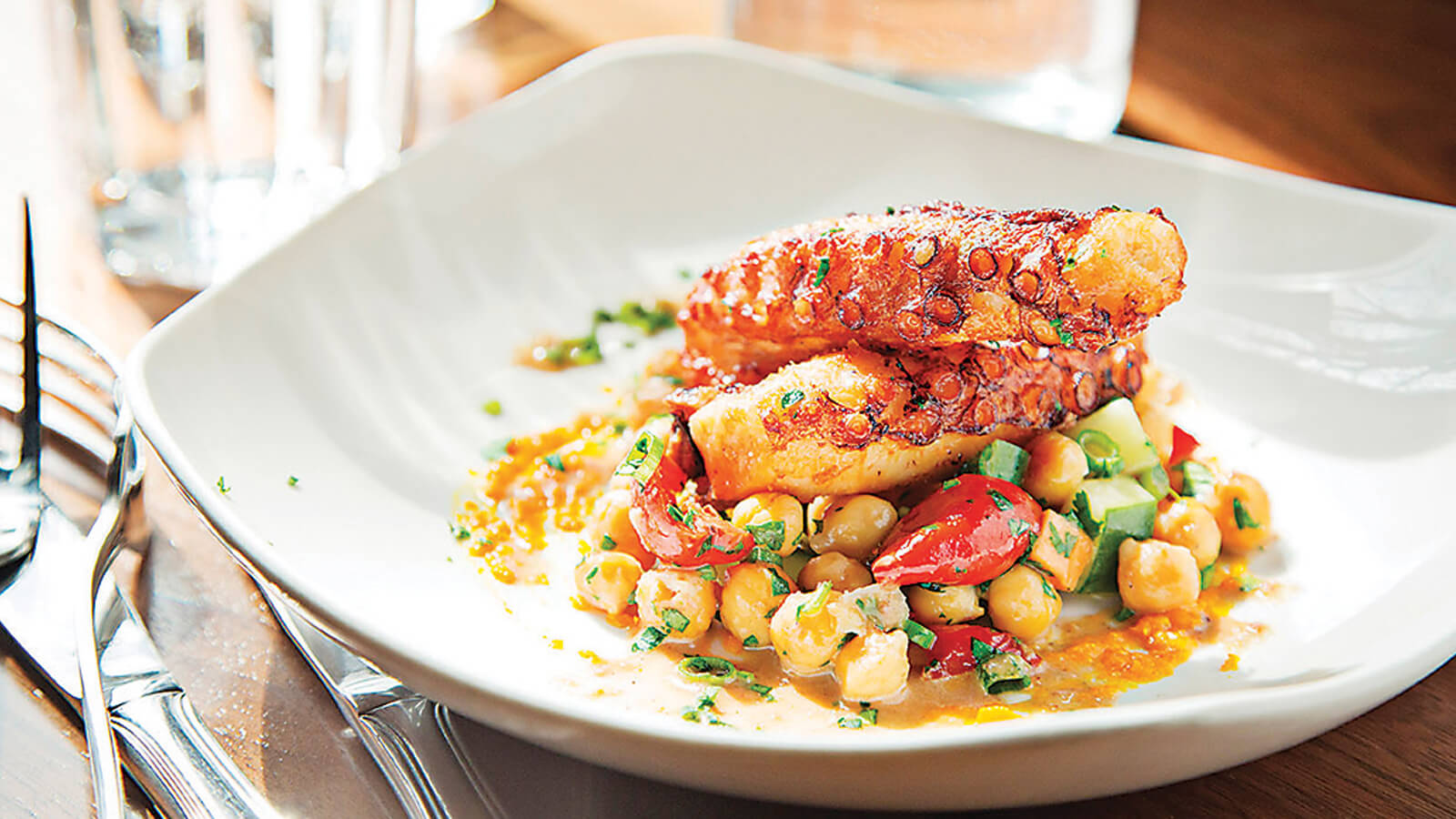 Photography by Scott Suchman
---
Baked Goods
Artifact
When our sugar cravings kick in, we head to Artifact to indulge in the pastries heavily influenced by James Beard Award-winning owner Spike Gjerde's early days of apprenticeship at Pâtisserie Poupon. (And wife Amy, who is the whiz behind the vision of the pastry team.) With flours, honey, syrup, butters, and dairy locally sourced, the sweet sensations—including heavenly croissants, iced cornbread with caramel popcorn and sour cherry quark Danish—are a mastery of flavor and form. 1500 Union Ave., 410-235-1881
---
Barbecue
Black Hog Barbecue
While Black Hog Barbecue features a sign on the wall listing the distances to the country's "Q" capitals (Lockhart, TX: 1,549 miles; Kansas City, MO: 1,029 miles; Memphis, TN: 867 miles), you need look no further than the heart of historic Frederick for authentic, smoked-on-site Memphis-style ribs, Texas-style brisket, and Carolina-style chopped pork. Hunker down to a smoked, pulled-pork sandwich or go for a chicken-and-rib combo with collards and cornbread on the side. And if you slop some sauce on your shirt, no worries—they sell some of hottest hog T-shirts in town. Several locations, including 118 S. Market St., Frederick, 301-662-9090
---
Breads
Bagby Restaurant Group
Whoever said that man cannot live by bread alone never had a lofty loaf from the Bagby Restaurant Group, which includes Fleet Street Kitchen, Cunningham's Café, Cunningham's, Ten Ten American Bistro, and Bagby Pizza. Head baker John Aversa and his team turn out stellar Old World boules, baguettes, batards, and even pizza dough, with nothing more than a simple mix of organic wheat or rye flour, water, and salt. Think chewy interior, plus a crackling exterior, often adorned with amazing imprints of elephants, unicycles, and even the face of Natty Boh. Can you say "bread winner"? 29 W. Susquehanna Ave., 410-244-1311 Breakfast Spot
---
Breakfast Spot
Café Cito
Café Cito is the new Hampden hotspot you wish was in your own 'hood. This Spanish-inspired stunner is an unassuming place to linger over the most important meal of the day. One Saturday, we settled in for a cup of Chemex-style coffee, a breakfast "Sammy" of mushrooms, spinach, and cheddar on toasted ciabatta bread, and a flavorful spring vegetable paella—a medley of mushrooms, asparagus, peas, and peppers over rice from España's Calasparra region. Everything in life should be this simple—you rise, they shine. 3500 Chestnut Ave., 443-682-9701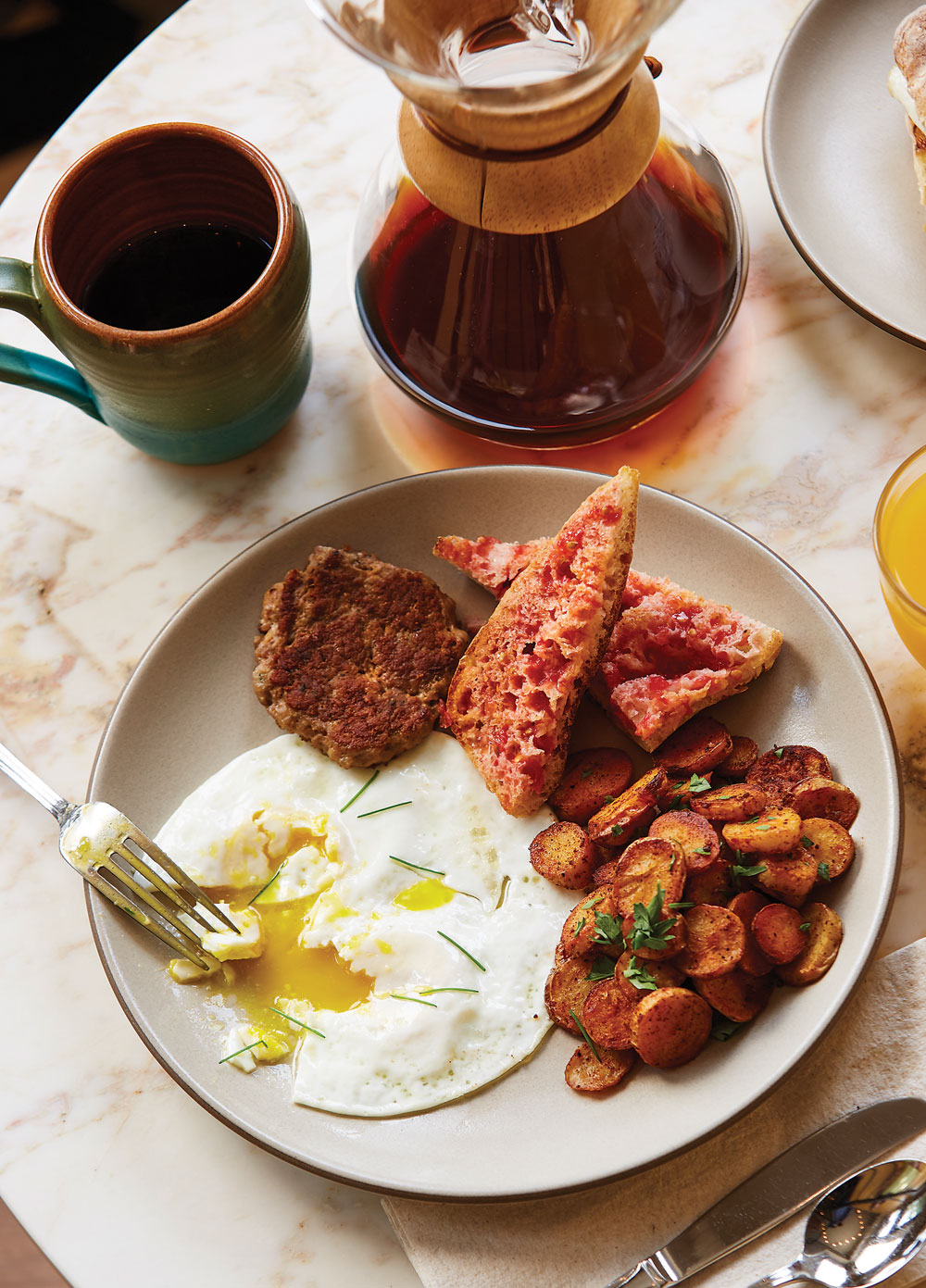 Photography by Ryan Lavine
---
Charcuterie
Lobo
Sometimes, it's the little things in life that matter. Case in point, the petite corner destination of Lobo in Fells Point—with its limited menu, tiny open kitchen, and selection of small plates. We adore the chef's board, where chef Dave Munyon handpicks his favorite daily selections of meats, cheeses, and pickled things. On a recent jaunt, it was a beautiful board of salty San Daniele prosciutto, circles of sweet coppa, creamy manchego, house-made pickles, and a spicy imported cheddar made with mustard seeds and brown ale. The combination of textures and tastes was unexpected and, at the same time, just what we needed—not unlike the establishment itself. 1900 Aliceanna St., 410-327-0303
---
Cheeseburger
Clark Burger
Move over, popcorn and Milk Duds: The newest movie snack is burgers and poutine. At least that's the mission of Clark Burger, which opened next to the Senator Theatre in January. While the menu boasts plenty of plays on the patty, we suggest sticking with the titular Clark Burger made of black Angus beef, and including Tillamook sharp cheddar, smoked bacon, onion, lettuce, pickles, and a smoky Thousand Island-style sauce. Move on to the Québécois creation of hand-cut fries doused in rich brown gravy and topped with cheese curds and you might have trouble focusing on the film. The fact that Clark Burger owner James Clark is a native of Canada also adds to the eatery's cred. 5906 York Rd., 410-323-2356
---
Cheese Shop
The Wine Source
Given that wine and cheese is a classic combo, it makes sense that the dreamiest dairy in town can be found at The Wine Source. The store's cheesemongers (who write a breezy blog) have curated an outstanding collection, with an emphasis on small-batch and artisanal cheeses, as well as locally produced products. Go for the grassy, garlicky French Tremblaye Brie, grab a wedge from the Basque region, or try an earthy Jersey Blue, a rare pick from a cheesemaker in Switzerland. Cheese, however, cannot stand alone. Grab a bottle of vino from the miles of wine aisles, and then call us—we'll be right over. 3601 Elm St., 410-467-7777
---
Coffee Program
Johnny's
Most restaurants keep a pot of coffee warming on the burner for your pouring pleasure, but Johnny's offers way more than the usual lukewarm swill that sits around all day. Developed by coffee "auteur" Lindsay DiFabbio and sourced from Annapolis-based Ceremony Coffee Roasters, Johnny's java menu includes a robust roster of brewed-to-order caffeinated concoctions from mellow cappuccinos to specialty elixirs, including kicky cortados with honey and cayenne pepper, and house-made iced chais with coffee and cream liqueur. For the full experience, pull over a stool at the barista bar, order a slice of the dreamy coffee cake made daily, and ask DiFabbio to swirl a swan into your latte. 4800 Roland Ave., 410-773-0777
---
Decor
La Cuchara
This Basque-country restaurant sits on the former site of the London Fog raincoat company, which might explain why it pours on the charm. We get gushy about these dramatic digs, from the soaring ceilings and awe-inspiring metalwork by local artisans to the vintage Biarritz plates and namesake spoons, some of which are sourced from the beautiful Basque countryside. Sit at the bar and order a red from the Rioja region or tuck into a table for two for a plate of pintxos. Wherever you park yourself, expect a room with a view. 3600 Clipper Mill Rd., 443-708-3838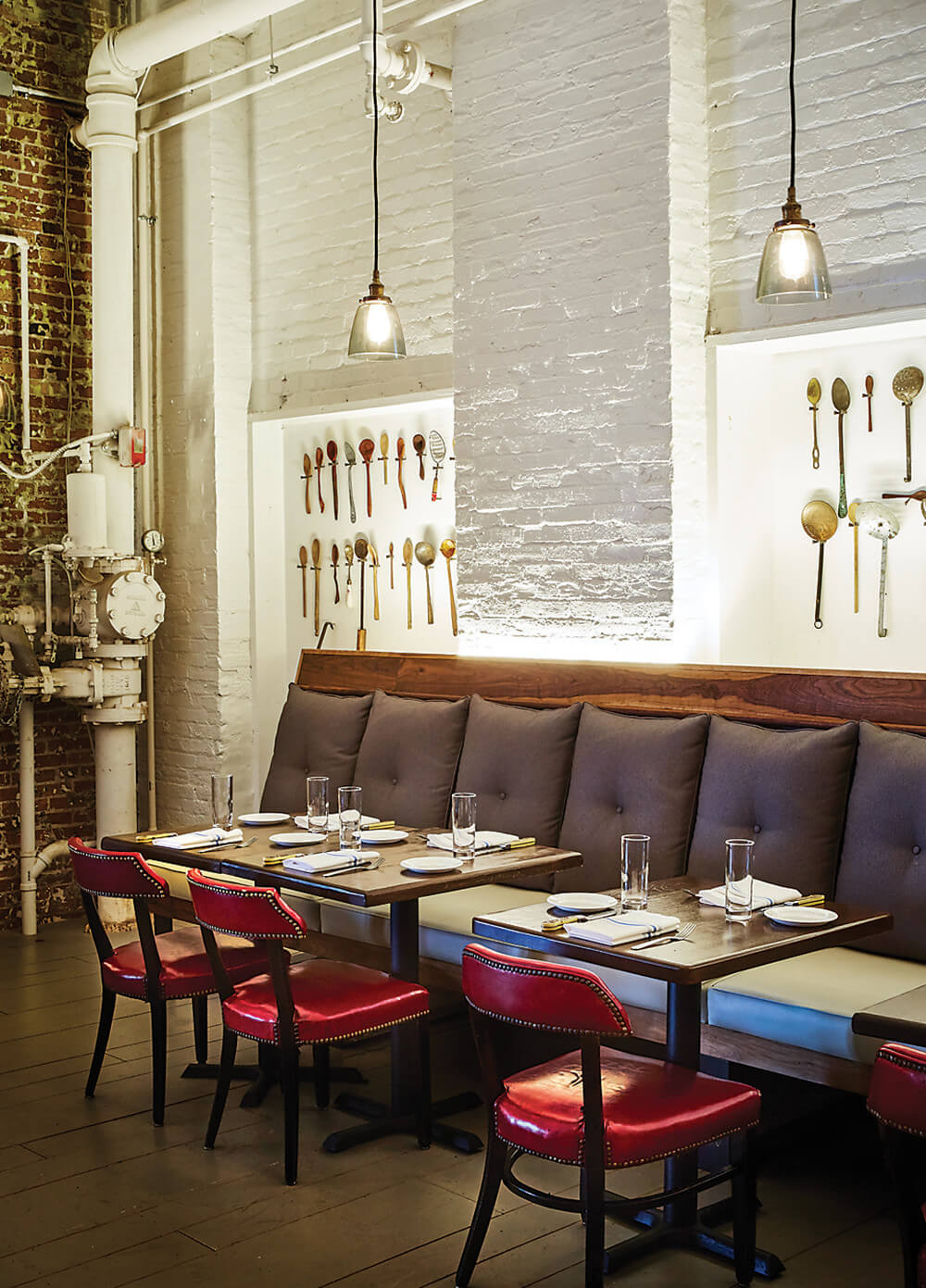 Photography by Ryan Lavine
Breakfast STAND
Blacksauce Kitchen
Sometimes we need a really good reason to get out of bed early on Saturday mornings. And we have found one in Blacksauce Kitchen's breakfast biscuits, available at the 32nd Street Farmers' Market in Waverly. We're not exactly sure what Damian Mosley and Vesnier Lugo put into their baked beauties, but no matter the iteration (buttermilk, cheddar-rosemary, maple-bacon), they are fluffy, flakey perfection. The best part? If you oversleep, they're selling on Sundays under the JFX, too. blacksaucekitchen.com
---
Finger Food
Mushroom Stand
We're wild for the mushroom dishes from Ferial Welsh's Mushroom Stand at the Baltimore Farmers' Market. From chanterelles to morels, the so-called "Mushroom Lady" turns her woodsy wonders into quite the culinary creations. The beer-battered oyster-mushroom fritters served over greens with sheep's cheese, basil, and hot sauce; and the Portobello and quinoa sandwiches send us straight to 'shroom heaven. Holliday and Saratoga Sts., 410-752-8632
---
Produce Stand
Gardener's Gourmet
The Westminster-based Gardener's Gourmet at the 32nd Street Farmers' Market is our favorite place to go green not only because of the freshness of the produce but for the sheer variety of unusual roughage. From farm-fresh purslane and Swiss chard to mizuna and mint, we're in our salad days here. E. 32nd and Barclay Sts., 410-889-6388
Fries
The Local Fry
All over town, people are getting creative with their fries and there are even multiple places to get poutine. (See Best Cheeseburger.) But our favorite spot for spuds is The Local Fry, which opened in Federal Hill in January. When husband-and-wife owners Kevin and Elizabeth Irish lived in Ireland, they noticed a lot of fish-and-chip spots, so they decided to open one in the States where the tasty tubers are the stars, not the side. Enjoy fries topped various ways, including Banh Mi with pork, pickled daikon, and cucumbers; Greek with gyro beef, feta, and tzatziki; and the house specialty with taco meat, spicy house-made sauce, and cheddar cheese. Probably their smartest move? Being open until midnight on the weekends. 21 E. Cross St., 410-244-1283
Photography by Scott Suchman
---
Gluten-Free Bakery
Harmony Bakery
Whether you're gluten intolerant or going against grain by choice, Hampden's Harmony Bakery proves that eating healthfully doesn't mean forfeiting flavor. Choose from an array of attractively displayed gluten-free goodies like spinach-feta or polenta pies, satisfying chickpea tarts, glazed strawberry donuts, and even bagels and biscuits. We dare you to discern the difference—we certainly couldn't. 3446 Chestnut Ave., 410-235-3870
---
Good Deed
Michael Tabrizi
At a time when the Baltimore restaurant industry is still reeling from the riots, Michael Tabrizi, owner of Tabrizi's, picked purpose over profit. During Baltimore Restaurant Week in July—typically a time when local businesses surge—Tabrizi came up with his own version of the week by reaching out to Charm City's homeless population. For five days, Tabrizi shuttered the doors of his Federal Hill restaurant and catering business to prepare meals for the homeless, even teaming with the Baltimore Area Concierge Association to organize bus service to ensure that anyone who wanted a hot meal could get one. Tabrizi's gesture has the power and potential to make a big impact. Let's hope others follow suit.
---
Hidden Gem
Puerto 511
Every time we head to Puerto 511, tucked away on a forgettable block of Clay Street, we question if we've made a wrong turn. But once inside, as the dishes arrive, we bless our GPS for never steering us wrong. Though we've sampled most of the menu (Peruvian fried rice, lomo saltado) at this BYOB Peruvian place, the ceviches are why you're here. Try the Tiridato with pieces of pristine white fish swimming in a yellow chili-pepper cream sauce and amixto arocotado version, including calamari, octopus, and shrimp coated in tiger milk. You'll be glad you made the trip. 102 Clay St., 410-244-8837
---
Hot Dog
Haute Dog
Hot dogs usually get relegated to specific events, like barbecues or baseball games. But Mt. Washington's Haute Dog inspires us to make them part of our regular routine. Between the super friendly staff, bargain-basement prices (chips and a drink for $1.50), and inventive dogs and sausages, we keep coming back to this Falls Road stand. Be sure to check the daily chalkboard specials for the dogs du jour. On the day we went, it was a Buffalo chicken dog with blue-cheese dressing. It was delicious. And look out for the Haute Dog's food truck, coming soon, giving us yet another way to enjoy hot dogs—no matter the occasion. 6070 Falls Rd., 410-608-3500
---
Italian Deli
Trinacria Cafe
With the influx of Italian immigrants to Baltimore through the centuries, it's no wonder we're flush with great Italian delis. But we want to give a special shout-out to Trinacria Cafe, a spinoff of the 107-year-old Trinacria Fine Foods in Seton Hill and always a gold standard in our eyes. During the Freddie Gray riots, the cafe's windows were smashed, yet they managed to re-open—still boarded up—just three days later. Its loyal customers were thrilled to be able to show support by ordering signature sandwiches like the porchetta panini and the veggie and shopping for imported goods. Thanks Trinacria for reopening with comfort food when we needed it most. 111 W. Centre St., 607-401-0200
---
Juice Bar
Plantbar
Tucked inside bustling Belvedere Square Market, Plantbar is proof positive that healthy foods can taste terrific, too. This SoCal-style, healthful hangout features guilt-free, cold-pressed juices rife with essential vitamins and nutrients; superfood smoothies featuring energy-boosting kale, hemp seeds, and coconut oil; and wellness add-ons such as bee pollen and green tea that give new meaning to the term "liquid lunch." 529 E. Belvedere Ave., 443-449-7137
---
Latin
Alma Cocina Latina
If you want to take a quick jaunt to the jungles of Venezuela, head to Alma Cocina in the Can Company. Caracas native Irena Stein, known for her vegetarian-friendly cafes on Hopkins' Homewood campus, brings the outside in with vibrant wall art, a profusion of planters, and a bright white space. Pick a perch at the restaurant's arepa bar, and gaze at the large, round grill turning out maize patties that get split and stuffed. All of them looked delicious, but we went loco for the La Nacional with shredded beef and sweet plantains. Don't tell, but we taste-tested some sangria over lunch—and the red is rad. 2400 Boston St., 667-212-4273
---
Lunch Spot
Dooby's
Dooby's is the kind of place you didn't know you needed until it came along. A hip coffeehouse with great java and amazing, Korean-inspired food, it's the perfect place for any meal, but we particularly love its lunch. Go up to the counter and order—maybe a tuna melt with pickled carrots, Gruyére, and tiger sauce; the decadent avocado toast; or one of Dooby's sublime rice bowls—have a seat and wait for them to call your order. Be sure to leave room for dessert: All of Dooby's baked goods are made in-house. 802 N. Charles St., 410-609-3162
---
New Chef
Steve Monnier
Some chefs are better recipe readers than culinary creators. Not so for Michelin-starred chef Steve Monnier who writes a weekly prix-fixe menu of French and American-inspired seasonal specialties focused on locally sourced ingredients and techniques at Hampden's Arômes. And while new Charm City eateries seem to open in less time than it takes a soufflé to rise, this Hampden hotspot truly brings something fresh to the scene—flash-fried scallops metamorphose into crunchy "rinds," while roasted sweet potatoes work their way into cardamom ice cream. Dishes come and go, but fortunately the Reims, France, native has a vivid imagination. 3520 Chestnut Ave., 410-235-0035
---
New Restaurant
Ananda
The Ambassador Dining Room has long been our favorite for refined Indian fare in a romantic British Colonial-era setting. So when Keir and Binda Singh's sister outpost, Ananda, earned a spot on GQ magazine's list of 25 best new restaurants in the United States, we had to see what the fuss was about. Several pilgrimages to Howard County have led to enlightenment. In a gorgeous setting, Ananda turns out plates of perfectly executed chicken tandoori and sizzling skillets of swoon-worthy classic crab Malabar, and the best naan we've ever had. But don't take our (or GQ's) word for it—go see for yourself. 7421 Maple Lawn Blvd., Fulton, 301-725-4800
---
Pasta
Aggio
When a basic plate of spaghetti and meatballs feels too ho-hum for your hunger, head to Aggio for upscale, Italian-inflected noodle nirvana. Pasta is owner-chef Bryan Voltaggio's canvas for creativity, and simple shapes—from fusilli (tossed with chicken sausage, broccoli rabe, and ricotta salata) to pappardelle (mingled with rabbit and morel mushrooms) and agnolotti (mixed with English peas, pea leaves, and hen-of-the-woods mushrooms)—get reimagined for a modern meal. Bottom line: The former Top Chef contestant brings newness to Old Country cooking. 614 Water St., 410-528-0200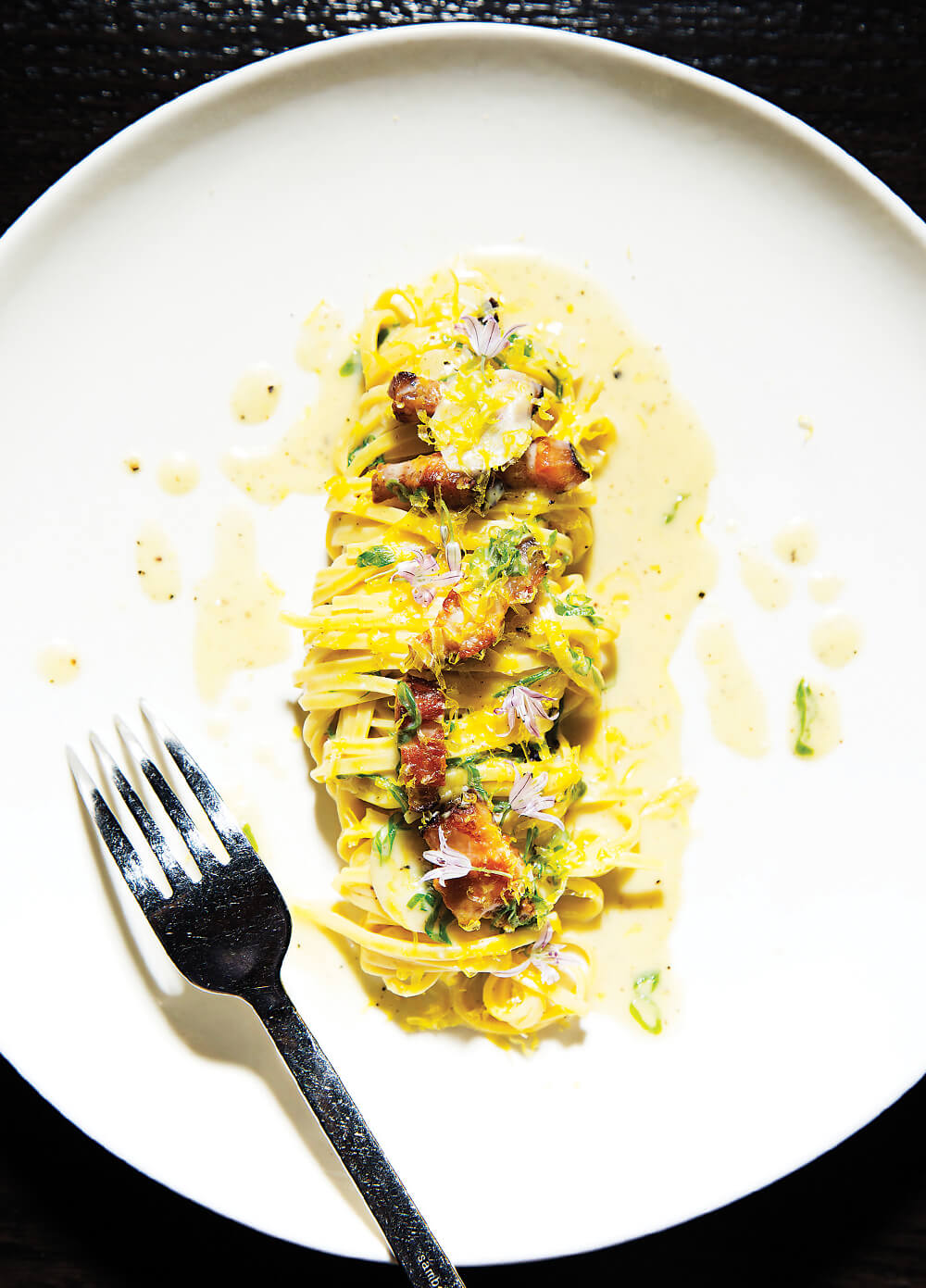 Photography by Scott Suchman
---
Pizza
Birroteca
Birroteca has a lot to offer: stellar cocktails, house-made pasta, and appetizers ample enough to make a meal. But when we're really craving the crackly crusts of Rome, we order one of Birroteca's wood-fired pies. These circular sweethearts strike that rare balance between doughy and thin-crust, yet are still durable enough to hold all the toppings in place. And the seasonal toppings separate Birroteca from the pizza pack. There's the signature Duck Duck Goose featuring duck confit, fig-onion jam, balsamic, and cheese, then topped with a duck egg. But we also appreciate the addition of the Puttanesca pie with pancetta, sausage, olives, capers, cherry tomatoes, Asiago, and fontina drizzled with olive oil. Two locations, including 1520 Clipper Rd., 443-708-1934
---
Prix Fixe
Charleston
It could be that the smell of sweet chicken stock wafting through the walls of the building that we share with this temple of Harbor East haute cuisine has us hankering for a heady bowl of lobster soup, melt-in-your-mouth pan-seared foie gras, or cornmeal-fried Virginia soft shells. But more likely, our heart grows fonder for Charleston every year because it affirms that the glamour of fine dining remains in full force in oh-so-casual Baltimore. And while the ever-changing prix-fixe menu (between $135 and $212 for three to six courses, including wine pairings), rewritten daily by James Beard Award-nominated chef Cindy Wolf, is a special-occasion splurge, we say this level of perfection is priceless. 1000 Lancaster St., 410-332-7373
---
Salads
Stone Mill Bakery
When the same old, same old romaine and boxed croutons with Wish-Bone dressing won't do, get your grazing on at Stone Mill Bakery. Yes, the lemon squares and coconut cakes are there to tempt, but the sumptuous salads packed with high-quality ingredients and some of the best house-made vinaigrettes in the city are off the charts. (All hail the house-made Caesar dressing.) Owners Alfie and Dana Himmelrich take no shortcuts—the olive oil and feta are sourced from Greece, the greens arrive daily from local farms—and deft combinations, like a chopped salad with green beans, crunchy corn, dill, and shrimp dressed in lemon vinaigrette are an essential part of our daily diet. 10751 Falls Rd., Lutherville, 410-821-1358
---
Sandwiches
Luigi's Italian Deli
In a classic case of "if it ain't broke," Luigi's Italian Deli re-opened in its original location in April, under new ownership. Now, the deli is in the hands of Chris Doiron, who was smart enough to leave two sandwiches on the menu: The Meatball Chub (meatballs, marinara, and cheese) and the Scooch, made with capicollo, soppressata, Prima Donna cheese, red peppers, and hot cherry peppers. Even more, Luigi's is now BYOB and has a patio located across from The Wine Source. 846 W. 36th St., 443-438-4195
---
Seafood
Thames Street Oyster House
Thames Street Oyster House owner Candace Beattie and her chef Eric Houseknecht shrink the distance between Baltimore and New England at this eatery specializing in Eastern seaboard-style seafood. There are showy shellfish towers chock-a-block with oysters, clams, and loaded with lobster claws; fabulous fish dishes; and even a five-pound Maine lobster crammed with crab, scallops, and shrimp. It's all top-flight, but the award-winning lobster roll—stuffed with chunks of properly poached tail and claw meat, and served on a buttered brioche bun—has practically become a Baltimore institution. 1728 Thames St., 443-449-7726
---
Soups
Atwater's
Pro-tip: Any time there's a seafood soup at Atwater's, order it. Of course, all the soups are delicious—from gazpachos to gumbos—but there's something that owner/chef Ned Atwater does with shrimp and crabmeat that simply makes us swoon. Back in the day, Atwater's was primarily known for those inventive, hearty soups, but the cafe has since expanded its menu to include wonderful sandwiches and Scottish pies. Still, don't sleep on the soup—it remains the best in town, seafood or otherwise. Several locations, including Belvedere Square Market, 529 E. Belvedere Ave., 410-323-2396
---
Special-Occasion Spot
Linwoods
While we've been known to drive to D.C. and New York for a great meal, a visit to this suburban see-and-be-scene spot reminds us that destination dining is happening here in our own backyard. Linwoods never fails to astonish with technically top-notch plates of house-made pastas, seafood, and grilled meats. It's no wonder that, when The Baltimore Museum of Art turned 100 this past year, owner Linwood Dame and his expert staff were called on to cater the event that fed more than 1,100 people. It's not easy to upstage Matisse and other modern masters, but Dame did with a carefully curated feast. 25 Crossroads Dr., Owings Mills, 410-356-3030
---
Sushi
Azumi
While Baltimore is blessed with a number of great sushi spots, we're smitten with Azumi in Harbor East. For starters, chef Eiji "Taka" Takase's menu is impeccably sourced, with much of the fish imported from Japan's famed Tsukiji market. Rolls we love include the Nobu-inspired black cod roll with spicy miso, crunchy satsumaimo, fragrant shiso ginger and an innovative hamachi iteration with avocado, yellowtail, and jalapeño salsa. Raw fish selections served sashimi- or nigiri-style also dazzle. One bite of the fatty bluefin toro will convince you that great fish needs nothing other than chopsticks to move it to your mouth. In other words, it would be sushi sacrilege to even think about using ginger or smothering it in soy sauce. 725 Aliceanna St., 443-220-0477
Candy
Rheb's
While Baltimore is blessed with places enticing us with highbrow candies to feed our fix, when the craving kicks in, we're sweet on old-school bonbons from Rheb's. The peanut-butter melt-aways are our culinary kryptonite. 3352 Wilkens Ave., Baltimore, 410-644-4321
---
Cookies
Bonjour Bakery
When any old piece of sugar won't do, we say "oui" to the macaroons at Bonjour. These airy almond cookies—filled with chocolate and pistachio never fail to hit the spot. 6070 Falls Rd., 410-372-0238
---
Ice Cream
The Charmery
The colorful Charmery has been brightening up Hampden since it opened in 2013. Laura and David Alima serve creations that are unmistakably Baltimore—like Old Bay caramel and lemon stick. On a recent visit, the place was as packed as a nightclub—albeit the patrons were a tad younger. But, as we snacked on our divine pistachio toffee crunch, we realized that there's fun here for all ages. 801 W. 36th St., 410-814-0493
Tapas
Tapas Teatro
Tapas Teatro was one of the original tapas joints in this town, and it's still going strong. One of our favorite things to do when the weather is nice is snag a table outside on Charles Street, order the delicious sangria; nosh on the pickles, olives, garlicky olive oil, and bread that is served right away; and watch the city go by. The whole menu is great, but we've always been partial to the spicy chicken croquets, the grilled shrimp with hot peppers and capers, the grilled lamb chops, and—if you're hungrier—the truly excellent paella. Its motto says it all: "Small plates, big pleasure," indeed. 1711 N. Charles St., 410-332-0110
---
Vegetarian
Sprout Natural Choice
Time was, vegetarian food was confined to tofu and tempeh, but thankfully, those days are long gone. Case in point: Whether you're a strict vegetarian or complete carnivore, Sprout Natural Choice has plenty to choose from, including a vegan burger, an avocado-strawberry sandwich, and a spicy wrap with black beans, corn, seitan, and a kicky Caribbean sauce. And the raw-juice blends and smoothies make the perfect complement to this veritable garden of eating. 706 Frederick Rd., Catonsville, 443-341-4880
---
Wine Bar
Vin 909
We may have discovered the most charming wine bar on the planet in Vin 909, inside an historic Eastport home near Annapolis. We like that the wine menu is organized by price because that's how we pick our wines anyway. You might start with a glass of White Knight Viognier, a fruity alternative to Chardonnay that is ideal in the summer heat. The peachy white pairs perfectly with the warm pulled mozzarella and green tomatoes. From there, move on to the Margherita pizza and finish with something bubbly like Jeio NV Prosecco. After all, a visit to Vin 909 is always a special occasion. 909 Bay Ridge Ave., Annapolis, 410-990-1846
---
40TH Anniversary Flashback
HÄagen-Daz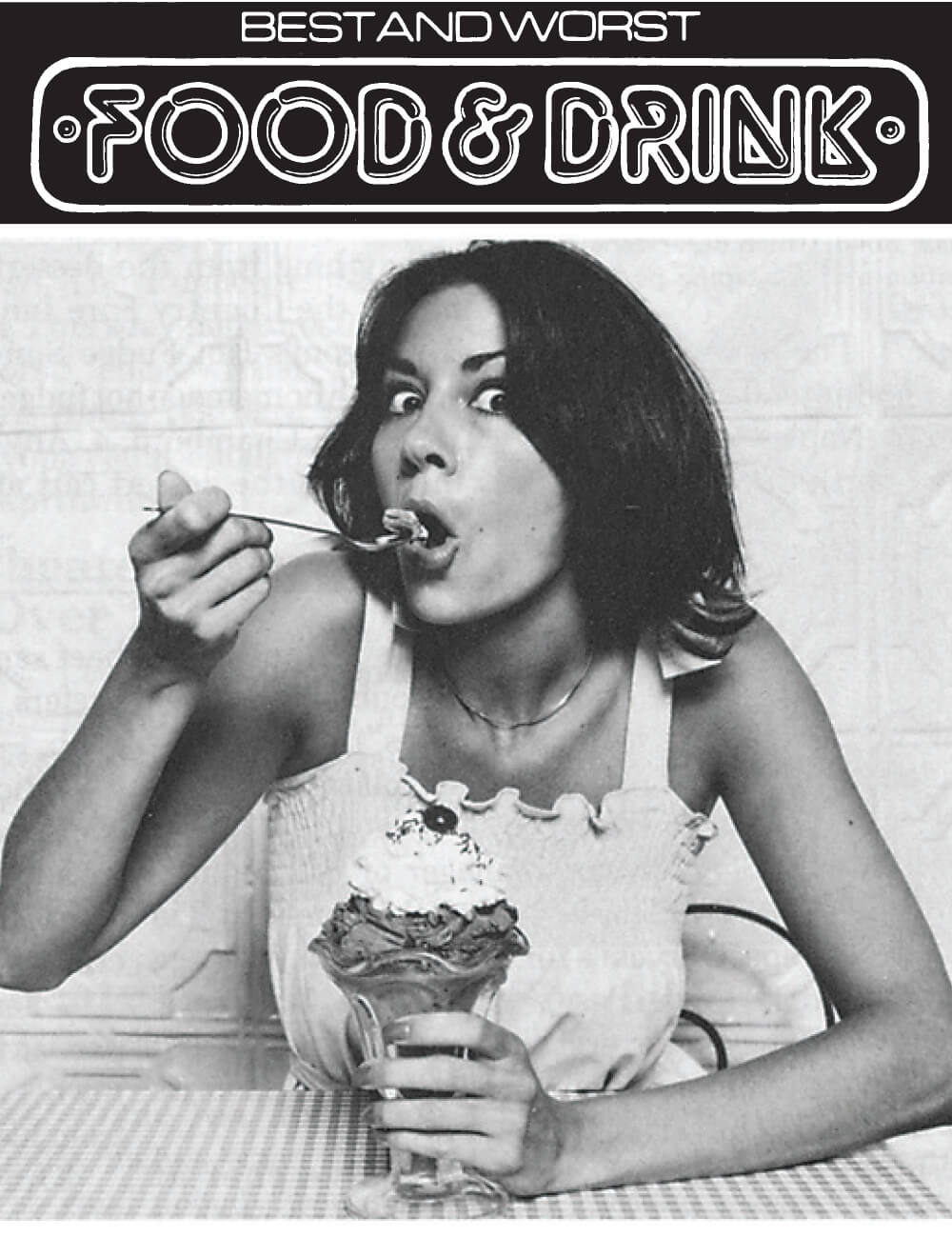 Hey, Häagen-Daz might be old hat now, but in 1978, its chocolate-chocolate chip was revelatory. (Let's face it, it still is!) Less beloved by us? Bubble gum ice cream at Baskin-Robbins. Also, the quiche at a place called Mr. Steak, in Cockeysville. "Mr. Steak will never be able to call himself Mr. Quiche," we quipped.
"Worst Decadent Ice Cream Flavor: Bubble Gum at Baskin-Robbins. (Unless you like to blow bubbles with butterfat.)"

"Best of Baltimore," July 1978, "Best and Worst of Food & Drink."