Food & Drink
Open & Shut: Silver Queen Cafe Open; Bel Air Bakery and Breadbangers Close
Restaurant openings, closings, and recent news.
By Lauren Cohen. Posted on January 05, 2016, 3:50 pm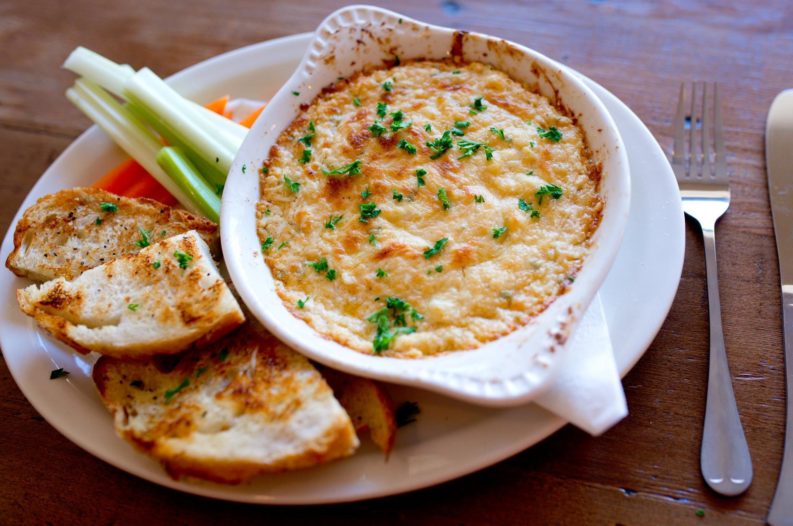 Gruyere crab dip at Silver Queen Cafe. -Courtesy of Silver Queen Cafe
OPEN:
Abbey Fells: Known for its tasty pub grub and lengthy draft list, Abbey Burger Bistro has been a Federal Hill favorite for years. Now, Fells Point locals no longer need to cross the pond to satisfy cravings for loaded burgers and waffle-fry nachos because Abbey Burger has officially opened a spinoff location on the 800 block of South Broadway. The 100-seat space, which was most recently the former home of Willow lounge, features high ceilings, wooden accents, and plenty of television screens for sports fans. 811 S. Broadway
Dovecote Café: This cozy coffee corner made its debut in Reservoir Hill last month, featuring fresh baked bites such as spinach pies, corn muffins with raspberry jam, sticky buns, and peach upside-down cakes. Adorned with flowery wallpaper and vintage décor, the space also boasts its own mini produce stand and showcases paintings for sale by local artists. 2501 Madison Ave., 443-961-8677
HomeSlyce Pizza Bar: In keeping with the of-the-moment trend of city restaurants (such as Mother's Grille and Nacho Mama's) expanding into the suburbs, this downtown pizza bar launched a new location in Columbia last month. HomeSlyce, which operates three other spots in Federal Hill, Canton, and Mt. Vernon, is known for its salads, calzones, meatballs, and signature boat-shaped personal pies. 9400 Snowden River Parkway, Columbia, 443-491-4000
Silver Queen Café: The Hamilton food scene saw a new addition last month with the opening of this homey restaurant that emphasizes regionally inspired comfort foods. Complete with rustic furniture and a kid's play area with toys and games, the spot focuses on savory dishes including Gruyere crab dip, butternut squash pizza, Maryland fried chicken with roasted Brussels sprouts, and pan seared pork chops with butter poached apples. 5429 Harford Road, 443-345-2020
Tanner's Pickles: Speaking of Hamilton, this all-natural pickle purveyor set up shop in new digs on Harford Road last month, selling everything from classic dills to pickled beets. Taking up residence in the former Tooloulou space, Tanner's offers pickled varieties ranging from habanero bread and butter pickles and pickled rosemary chili beets to garlic dill green beans and spicy molé carrots. 4311 Harford Road
COMING SOON:
Wet City: Be on the lookout for this new concept that will soon take shape in the former home of Dougherty's Pub—the decades-old Mt. Vernon staple that closed last month after its owners decided to retire. Brothers PJ and Josh Sullivan plan to transform the space into a modernized craft beer bar featuring 20 taps, small food and cocktail menus, and a mini brew system. The space, aptly named after Baltimore's moniker during Prohibition, is slated to join the scene this spring.
SHUT:
Bel Air Bakery: Devoted customers formed a line that stretched around the block in hopes of ordering one last doughnut from this beloved bakery on Christmas Eve, which was its last day in business. After operating in downtown Bel Air for 60 years, husband-and-wife owners Jim and Rose Hamilton have decided to retire to spend time with family. The bakery was best known for its customized cakes, turnovers, and pies. 140 N. Bond St., Bel Air
Breadbangers: After serving up sandwiches for only six months, this corner spot in Riverside has shut its doors for good. SouthBmore.com reports that the shop, which was best known for its cleverly named paninis and wraps (like the "Portabella Some Sugar on Me") that served as nods to '80s and '90s rock bands, closed after the building's owner recently sold the property. No word yet on what will become of the space under new ownership. 554 E. Fort. Ave., 410-617-0443
---
Newsletters
Get fresh content delivered straight to your inbox.