News & Community
Kevin Plank Unveils Master Plan for Port Covington
Developers lay out plan for UA campus, arts center, large park, and additional public transit stops.
By Jess Mayhugh. Posted on January 07, 2016, 1:03 pm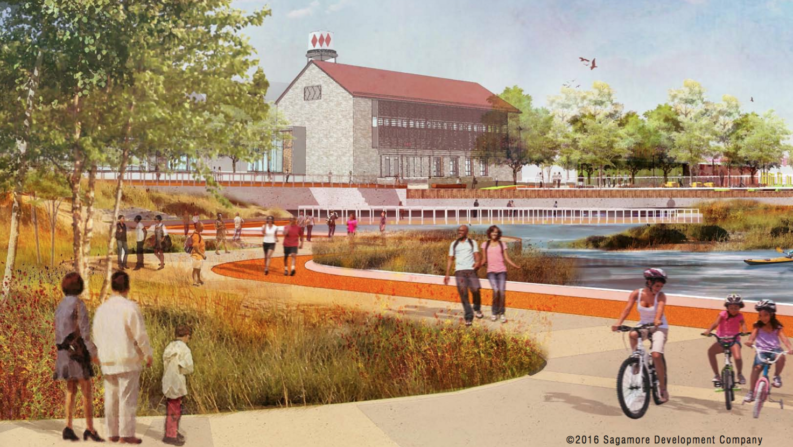 A rendering of a public park along the waterfront, with Sagamore Spirit distillery in the background. -Sagamore Development Company
This morning Sagamore Development Company, the real estate arm of Under Armour CEO Kevin Plank, presented a master plan to redevelop 266 acres in Port Covington to the city's Urban Design and Review Panel.
While much has already been talked about regarding the highly transformative plan in South Baltimore, the presentation went into more detail than ever before. Some key numbers include up to 13 million square feet of office, residential, restaurants, "maker space," and entertainment venues, plus a proposed 40 acres of public parks and green spaces.
Of course, the epicenter of the project is the new Under Armour campus, which will include 50 acres of space and hold 5,000 UA employees. But the plan also revealed a possible arts and performance center, a large park, and new stable for the horses of the Baltimore Police Department. In addition, under consideration are two new Light Rail stations, three new Water Taxi stops, and seven bike sharing stations to connect the area with the city's main transportation landscape.
Developers estimate that the project will take at least a year to get through the city's planning process, and that building will unfold in various phases. Just yesterday, cement started being poured into the five-acre distillery that will produce Sagamore Spirit's rye whiskey. Sagamore has also already converted a former garage into a "maker space" called, fittingly, City Garage, which will house a mix of offices, homes, and larger retail spaces.
Currently, the site is home to predominantly industrial space, a defunct Sam's Club, and a Walmart. But Plank, who has already invested $90 million into the project, clearly sees the potential—and the importance of keeping this development in the city.
"People said, 'You should look at the county or Pennsylvania,'" Plank told the Baltimore Business Journal. "That's not really our bag. We're of this city, from this city, and we're going to build something great in this city."
Jess Mayhugh is the digital editor for Baltimore, where she covers nightlife, sports, food, and events.
Read more from Jess Follow @jessmayhugh
---
Newsletters
Get fresh content delivered straight to your inbox.