Sports
Friday Replay: Carmelo Anthony Returns Home to West Baltimore
And four other things that happened in Baltimore sports this week.
By Corey McLaughlin. Posted on January 08, 2016, 12:05 pm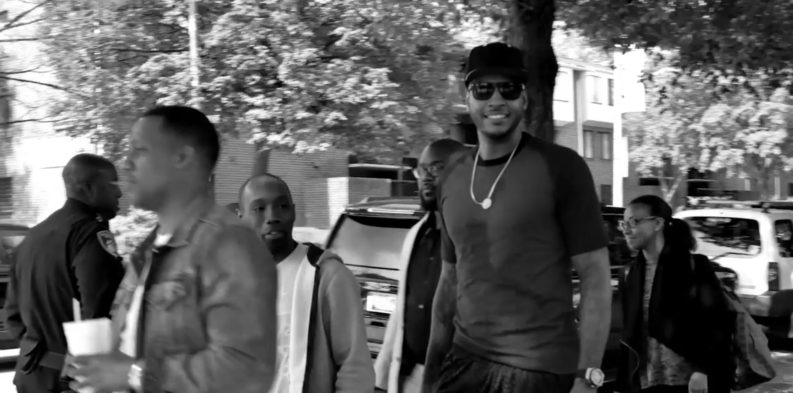 -Courtesy of Carmelo Anthony
1. Carmelo Anthony returns home to West Baltimore.
New York Knicks forward Carmelo Anthony, Baltimore's most well-paid basketball player of all-time, brought his 8-year-old son, Kiyan, to his native West Baltimore for the first time while filming a video to promote a new Nike sneaker, the Jordan Melo 12. "This is where I learned everything—from survival to who I am today," Anthony, who moved to Baltimore when he was 8 and played basketball for three years at Towson Catholic High, narrates over black-and-white footage in the video. He's been home before. In April, Anthony returned to the city four days after riots broke out on the day of Freddie Gray's funeral. While marching with protestors, Anthony stressed an even-keeled approach to voicing frustration.
2. Ravens season comes to merciful end.
Well, it's over. For the second time in three years, Ravens fans can take January off. Time to winterize the house or take down the Christmas lights. History will record the 2015 edition of the Baltimore Ravens finished 5-11 and with 21 players on injured reserve. "It's tough when you have that much turnover," tight end Dennis Pitta said. Quarterback Joe Flacco was among the wounded, going down with a season-ending ACL tear with six games remaining on the schedule.
As is custom after a season ends, Ravens players had exit interviews with staff and met with the media. Flacco appeared before reporters on Monday for the first time since suffering the injury. He was off crutches (Flacco lives!) and optimistic he would be on track with his rehab in time for training camp in the summer. Wide receiver Steve Smith, who previously said he'd retire this year, said he'd be back, too. Smith didn't want to end his remarkable and vocal career, and time as Flacco's top target, at the hands of a bum Achilles'. Coach John Harbaugh said he was proud of his men for working through some tough times this year. General manager Ozzie Newsome is looking forward to improving the roster this offseason, and the big takeaway from owner Steve Biscotti's "State of the Ravens" year-end address is to not expect monumental changes. Whew.
The next big date for the purple-and-black is April 28, for the NFL draft. The Ravens have the sixth overall pick. They'll have to make good use of it.
3. The Terps heard the longest . . . national . . . anthem . . . ever.
We know a thing or two about the national anthem around these parts. "You have to respect that 'O,'" Rolando Sanz, an opera tenor from Rockville who sang "The Star-Spangled Banner" before a sold-out Camden Yards at the Orioles 2014 playoff opener, famously told the Sun upon performing. Maryland is the song's home state, inspired by bombs bursting in air over Fort McHenry in the War of 1812. So imagine our chagrin when, before Maryland's men's basketball game at Northwestern in Illinois on Saturday, singer John Vincent committed a red, white, and blue personal foul. For some reason, he held the word "free" for 23 seconds.
Our National Anthem singer really emphasized the Home of the FREE at Saturday's @NUMensBball #B1GCats game https://t.co/MP8X6WFqBb
— #B1GCats (@NU_Sports) January 5, 2016
It's not about you, man. It is, however, about the Terps, ranked third in the country. They downed the Wildcats 72-59 on Saturday and improved to 14-1 with an 88-63 win over Rutgers back in College Park on Wednesday night. A nationally televised game against Wisconsin awaits Saturday afternoon.
4. Navy's Keenan Reynolds wins inaugural Stephen Decatur Award.
He didn't win the Heisman, but Navy quarterback Keenan Reynolds, who in December finished his career with an NCAA Division I record 88 touchdowns and led the Midshipmen to an 11-2 record this week, was honored with the inaugural Commodore Stephen Decatur Award by The White House Historical Association. He received the award—given for outstanding leadership—at a ceremony across from the White House at the home of Decatur, a hero in the War of 1812 (that's two references in one sports post!), and officer known for many naval victories who was born on the Eastern Shore of Maryland, and died at age 41 in a duel in Bladensburg. A former chief of naval operations and former Navy secretary were on hand Tuesday to honor the 22-year-old Reynolds, who has a couple months left at the Naval Academy in Annapolis before he is scheduled to become an information warfare officer after graduation.
5. Oriole Bird does math, everyone wins.
We let you know the Oriole Bird was on Twitter a few weeks ago. Don't ask how he tweets with those costumed hands, but he or she apparently does math, too. The countdown to baseball season is on.
I did some math & it turns out we're halfway home: regular season ended 13 weeks ago & 13 weeks from now is #OpeningDay! #MondayMotivation
— The Oriole Bird (@OrioleBird) January 4, 2016
And, if you're headed to Florida for spring training and like to golf, consider signing up for the Orioles charity event benefiting the Miracle League of Manasota, an organization dedicated to using baseball to help those with special needs. Tee it up with Buck and current O's Brad Brach, Kevin Gausman, Brian Matusz, Darren O'Day, Chris Tillman and Matt Wieters.
---
Newsletters
Get fresh content delivered straight to your inbox.