Food & Drink
​Gunther & Co. Set to Open in Brewers Hill This Spring
The restaurant will set up shop in historic Gunther Brewing building.
By Lauren Cohen. Posted on January 08, 2016, 4:30 pm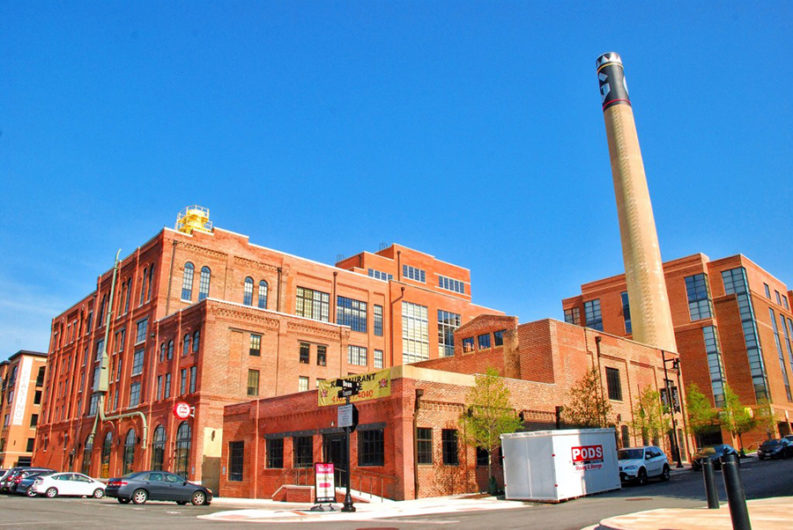 -Courtesy of The Global Grid
Joining the likes of La Cuchara and the yet-to-open Cosima, both situated on historically industrial city properties, is Gunther & Co.—a new modern American concept set to take over the century-old boiler room of Gunther Brewing Company in Brewers Hill.
Slated to debut in March, the brainchild of former D.C. area restaurateurs Jerry Trice and Nancy Hart Mola will serve American cuisine with global influences and make use of the building's vintage charm in its design.
"The real motivation for us was the space itself," Trice says. "It has so much character and we thought it would make a great canvas. The worst part, that it was a cold and dark shell, was also the best part because it gave us the chance to design using our own aesthetic style to match the industrial, rugged interior."
Seating upwards of 200 guests, the 7,000-square-foot space encompasses a front bar and den, a 150-seat main dining room, a mezzanine level with floor-to-ceiling factory windows, a glass-enclosed private dining room, an outdoor bar and patio, and an open kitchen complete with a wood-burning oven.
A row of counter seating off of the open kitchen will provide diners with a more interactive experience, allowing them to see the chefs in action and ask them questions about the dishes on the menu.
"There are so many different places that you can be within the one space," says Mola, a former managing partner of 8407 Kitchen Bar in Silver Spring. "You can stop in for a sandwich and a salad in the front room, hang out near the boisterous bar environment during happy hour, or be sitting at the counter watching the cooks."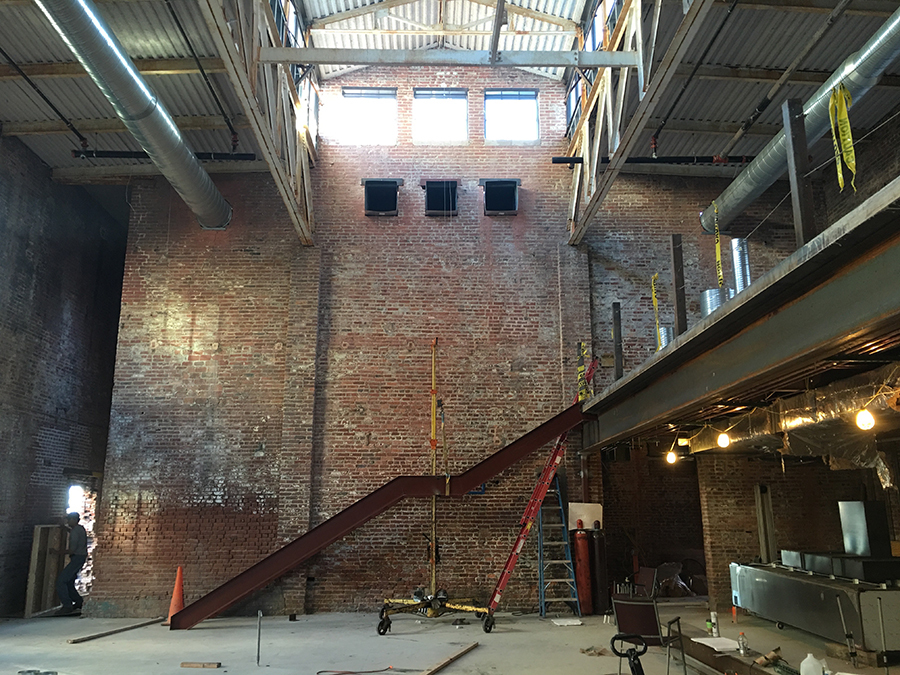 The owners' goal is to preserve the bulk of the building's existing interior elements, such as exposed brick walls, steel beams, and a 30-ft. ceiling, while also incorporating modern touches, like a 16-ft. living green wall that grows its own plants.
"We all feel better when we're around living things," Trice says. "The outdoors is the best dining room there is, so we brought a little bit of that inside and it ended up also helping with acoustics and air quality."
Trice, who headed up kitchens at Annapolis spots Yin Yankee and Sam's on the Waterfront, will be the executive chef.
His internationally influenced menu will include everything from grilled hanger steak frites and roasted Amish chicken to wood roasted leg of lamb with Israeli couscous and coffee-orange-glazed duck breast. The restaurant will also be open for lunch on weekdays and brunch on weekends, serving lighter dishes like Thai salads and smoked-salmon frittatas.
Another unique aspect of Gunther & Co. will be its beverage program, which will highlight local crafts drafts and a rotating list of kegged tequila, bourbon, and gin cocktails.
Mola says that, after 30 years in the D.C. restaurant industry, she's most excited about getting acquainted with the Baltimore food scene.
"Everything is well-chosen, we're not going to offer something to our guests that we don't like ourselves," she says.
---
Newsletters
Get fresh content delivered straight to your inbox.