The Accidental Abode
What Rebecca Hoffberger's home lacks in architectural style, it more than makes up for in décor.
Hoffberger leans against a support for her front porch, which she revamped with a nod to her love of nature; In the den, the first painting Hoffberger ever bought—by Martha Macks—hangs above two antique "potty chairs." -Photography by Cory Donovan
---
---
"I really didn't want to live here," American Visionary Art Museum (AVAM) founder and director Rebecca Alban Hoffberger says, sitting in the cozy but slightly cluttered den of the late-1970s Owings Mills home she bought in 2008.
Tucked away on a leafy cul-de-sac, it was a perfectly nice, somewhat generic house on the outside, and, even today, there is nothing save a Turkish hand-painted wagon in the yard, some log-cabin-esque woodwork on the porch, and a bright green front door to suggest that the visionary mind behind Baltimore's funkiest museum lives here.
It wasn't the house, exactly, that brought her here. Wanting to live near her then-95-year-old father, "it was the only thing that I could afford in this area," says Hoffberger, who wasn't particularly impressed with the interior, which sported an abundance of shag carpet, wall mirrors, and pastel wallpaper. Then she stepped into the backyard.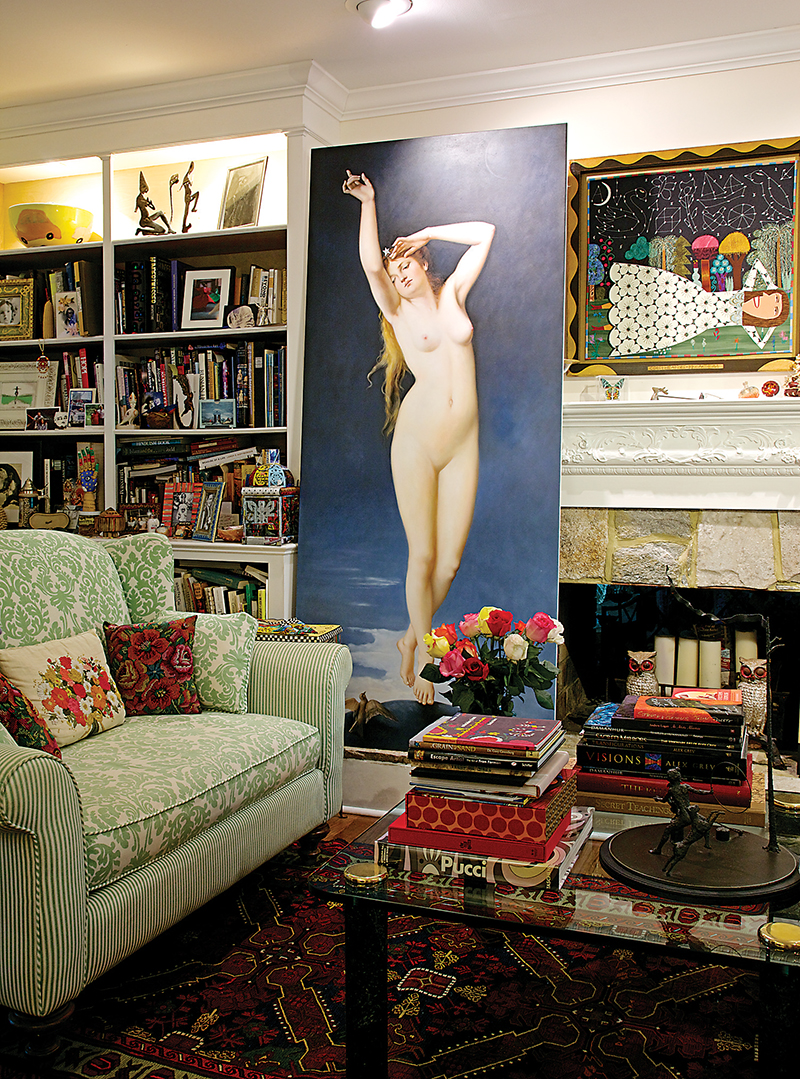 "I know it sounds funny, but I felt the trees sort of hug me," says the lifelong nature lover, whose museum launch included a tree-of-life exhibit that paid homage to the tree's role in human history.
Bidding started $30,000 below the listed auction price—a pleasant surprise—but quickly ramped up.
"The bidding went like popcorn," Hoffberger recalls. "I got to the point where I could not spend one penny more." And then, in a minor miracle, the bidding stopped with Hoffberger on top. The house was hers.
"With it came the best neighbors—really, I was lucky," says Hoffberger, who made minor fixes to the house that included pulling up the carpets (to reveal beautiful floors), giving the front porch a rustic makeover, and putting in a circular drive. Above the fireplace in the den, she installed an ornate wood mantel from a New York tenement—a gift from the Lower Eastside Girls Club, which, when founded, took a page from the seven educational goals Hoffberger created when she envisioned AVAM.
For basic furnishings, like the stout and commanding dining-room table, Hoffberger swears by local furnishings purveyor Carpetbeggars, though she's careful about what she buys, especially when it comes to décor. "I don't buy very much," admits Hoffberger. And, no, she's not trying to build her own AVAM-esque home museum: "I think it would be a conflict of interest to actively collect visionary art for myself," she explains.
Instead, the home is brimming with items gathered and given that tie into the journey of her 63-year life.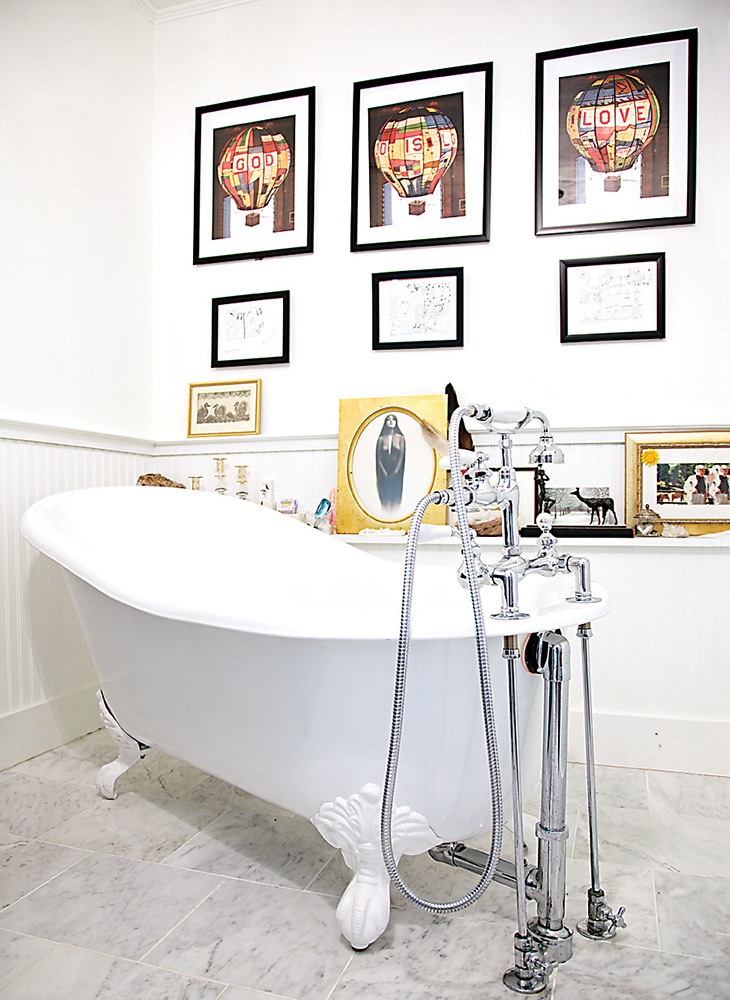 In the den, the nearly 6-foot-tall Aurora painting propped against the fireplace tells one of those stories. Hoffberger had it reproduced inexpensively to replicate a painting that hung in one of her favorite childhood haunts, Haussner's Restaurant. Nearby, atop the mantel, is a large tortoiseshell button, which elicits another tale. "That button was my first memory of my mother's coat. I remember being a baby and seeing it," Hoffberger says.
"Even seemingly standard antique chairs have some humor in them," says Hoffberger, lifting a seat to reveal their design as "potty chairs."
Upstairs, a stained-glass window, purchased from a friend who'd stumbled across it in the 1970s during a downtown church remodeling, filters light into the master bedroom. Nearby, just steps from her bed, is a small round table loaded with photos and knickknacks—a shrine to beloved friends and family who have passed away.
And then there are the gifts, reminders of the people who've touched her life, like Marcel Marceau, the famous mime who recruited Hoffberger at age 16 as his first-ever American apprentice. The street scene sketch by Marceau that hangs in the dining room was given to Hoffberger by a friend who found it at an auction.
"It was one of the most thoughtful gifts I ever got," says Hoffberger, who stayed in France after her apprenticeship, married a ballet dancer at 17, co-founded a ballet company at 19, and then returned to Baltimore to deliver her first child, Belina. (Hoffberger also spent time in Mexico, where she studied alternative and folk medicine, re-married, and had a second child, Athena.)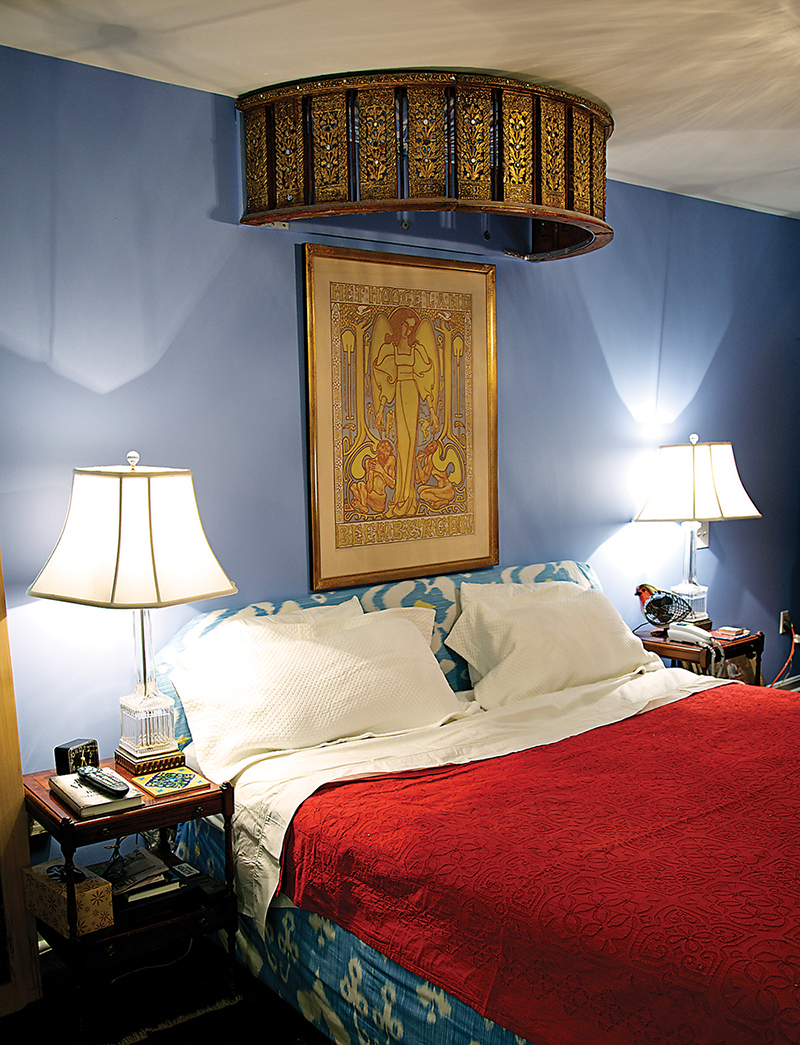 And, of course, there are reminders of those she has met by way of AVAM, including a dining-room centerpiece that was a gift from Vollis Simpson, creator of the Giant Whirligig that stands outside AVAM. "That will eventually go to the museum," says Hoffberger. "But I love it so much." Also close to her heart are three small statues: "They're from [Irish-American sculpture artist] Patrick McGuire, one of my unsung heroes," she says.
It all adds up to a home that's perfectly in line with what matters most to its owner, says daughter Athena. "You can tell that she's paying tribute to all the things that she appreciates in life, whether it be my grandparents or the simple craftsmanship of some obscure tribe," she says. "The way she does it just has a flair of magic to it."
Of course, even when she's at home, her raison d'être, AVAM, which will celebrate its 20th anniversary in the fall with a star-studded gala, is never far from Hoffberger's mind. Eventually, she'll step away from the day-to-day rigors of running it, but before she does, there's still unfinished business. "We still have the big nut to crack of the endowment," she says. Hoffberger hopes to find a benefactor with $25 million to spend on naming rights to the museum. "We hope the name is Aaron von Aardvarc so we keep the AVA," she quips. "But we're open to any good soul."
She is, by nature, hopeful, but right now, "above all, I'm feeling thankful," she says. Not only is the museum on solid financial footing, but it's also supported by a stellar staff, which eases the worry about any eventual transition.

One of Hoffberger's favorite buys, a sofa made with Afghani temple wood medallions and topped with a Russian rug. On the wall are two paintings by artist Mark Barry, including, on the right, a depiction of Billie Holiday, one of the Baltimoreans Hoffberger most reveres.
When the time does come, the first order of business might be some quiet time off—Hoffberger notes she hadn't gone on a vacation in 14 years until she took a work/play trip last year to London to judge the Alternative Miss World contest. She'll also likely tackle another lifelong dream—writing a play, and adds studying physics to the list.
"I do love science so much and, since 1984, when I had the idea for the museum, I wanted to write a play about the friendship between Nikola Tesla and Mark Twain," she says.
She'll also, no doubt, downsize and streamline her life and her home, a notion that has become more appealing the older and the more in touch with nature she gets. "I see myself in some little shack in the woods on a mountain," she says, adding that she'll take with her little more than her mother's jacket button and her photos. The rest she'll pass along to friends and family, "just as they were given to me," she says. "They'll go to people to whom I feel they really belong—there's something about them that matches the object. And, hopefully, it will bring them joy as well."
---
Rebecca Hoffberger in 30 Seconds
Age: 63
Grew Up: Stevenson
You might not know: Hoffberger was accepted into college at age 15, but instead headed to France to become the first American mime apprentice for Marcel Marceau.
Career moves: Co-founder of New City Ballet company; nonprofit consultant; folk and alternative medicine trainee in Mexico; development director at the Mt. Sinai Hospital Department of Psychiatry for People Encouraging People; founder, director, and principal curator of AVAM.
Some kudos: 2011 Katherine Coffey Award from the Mid-Atlantic Association of Museums; honorary doctorates from the Maryland Institute College of Art, Stevenson University, Pennsylvania College of Art and Design, and McDaniel College; inductee into The Maryland Women's Hall of Fame; winner of the Urban Land Institute's National Award for Excellence.
Things she can't live without: "People who make me laugh. Trees.
The sweet memories of my parents. Watermelon. Ancient Aliens TV show. The poetry of Rumi. Artist Andrew

Logan's mirrored jewelry. An unending search for meaning and justice. Hope. Marrons glacés. Vanilla ice cream in coffee. Dr. Bronner's peppermint soap. Tea Rose perfume. My museum staff and two awesome daughters."