Events
Weekend Lineup: Dec. 18-20
The best things to do in Baltimore this weekend.
By Rachel DeSantis. Posted on December 17, 2015, 5:57 pm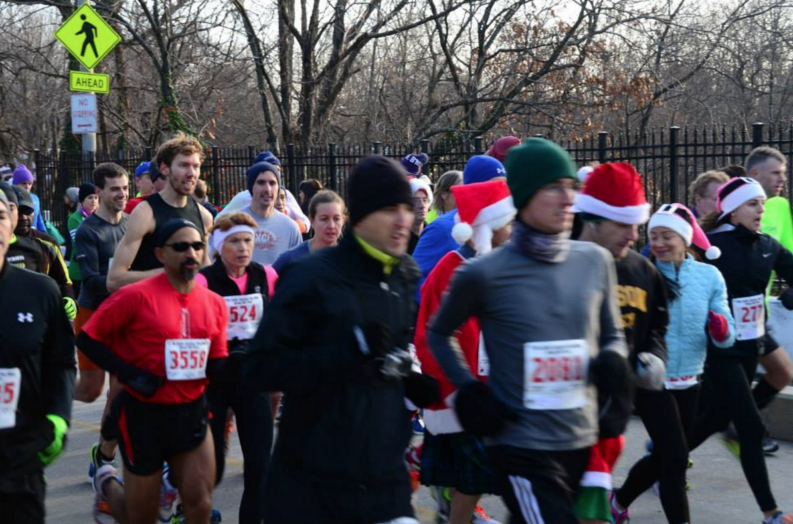 -Courtesy of Facebook
Five things to eat, drink, see, hear, and do with your Charm City weekend.
EAT
Dec. 19: Llamadon's 12 Slices Holiday Party
Metro Gallery, 1700 N. Charles St. 9 p.m. $7-10. themetrogallery.net.

For those unfamiliar with Llamadon, we know what you're thinking—no, it isn't the latest character in a Jurassic Park film, and really, it has nothing to do with llamas. In actuality, it's a multi-discipline collective of independent artists coming together to show their stuff in energetic, multi-genre shows. Since 2013, the group has been connecting loads of Baltimore-based bands with national artists and diverse audiences. This weekend, stop by their third annual holiday party at the Metro Gallery, where you can jam out to Blacksage, Butch Dawson, and Joy Postell among others, and nosh on the free pizza that's become a (delicious) tradition.
DRINK
Dec. 19: Diamondback Brewing Holiday Party
Spoons Café, 24 E. Cross St. 7-10 p.m. $5 suggested donation. 410-539-8395. spoonsbaltimore.com.
Diamondback Brewing may be the new kid on the block when it comes to Baltimore brews (it was founded in fall 2014 by a trio of post-grad childhood buds), but, in just a year, it's made quite a name for itself, thanks to the popularity of its 3:30 Amber Ale and the newer Golden Ale. With the boys gearing up to open a brewery sometime in the near future, try some suds for yourself at Spoons Café in Federal Hill where beers will be $4 a pop and 5 percent of the total bar tab will go to a good cause. Donating to charity while drinking beer? Yes, please.
SEE
Dec. 19: Maryland vs. Princeton Basketball
Royal Farms Arena, 201 W. Baltimore St. 7 p.m. $15-150. 410-347-2020. royalfarmsarena.com.
For a Big 10 school still reeling from an embarrassingly dismal football season, the lone bright spot in the University of Maryland's men's sports program is the basketball team. Led by Melo Trimble, arguably the most exciting player to watch since Greivis Vasquez sported a Terps jersey, and with help from Duke transfer Rasheed Sulaimon and newcomer Diamond Stone, the team is an impressive 9-1 and ranks sixth in the NCAA Men's Basketball Rankings. In the animal kingdom, tigers reign supreme over turtles, but that may not be the case on the Baltimore arena's basketball court this weekend.
HEAR
Dec. 19: Home Alone: Movie and Music
Joseph Meyerhoff Symphony Hall, 1212 Cathedral St. 3, 7 p.m. $15-62. 410-783-8000. bsomusic.org.
Whether you realize it or not, the classic holiday film Home Alone's soundtrack is almost as legendary as its bumbling fool characters and endlessly quotable lines. (You're lying if you claim to never have described a friend's girlfriend as 'woof!') Whether it's Macaulay Culkin's Kevin singing along in the mirror to the Drifter's bluesy rendition of "White Christmas" or the church choir moving you to tears with "Somewhere In My Memory," the Home Alone soundtrack and John Williams's beloved score are a huge part of what make the movie so great. This weekend, hear the soundtrack played live by a legendary orchestra while you watch the movie—and make sure you don't accidentally leave the kids at home for this one.

DO
Dec. 19: 2015 Celtic Solstice Run
Druid Hill Park, 800 Wyman Park Dr. 8:30 a.m. $40-75. active.com.
Don't let the fact that the weather's been creeping up toward the 70s deter you from Baltimore's premier winter race. Sure, the weather's been nice, but it won't be for long, so get in that last warm-weather race with this five-miler, a scenic loop passing by the Maryland Zoo, Mansion House, Rawlings Conservatory, and, of course, beautiful and vast Druid Hill Lake itself. Now in its 16th year, the race is the perfect pre-holidays boost to keep you from feeling guilty about all those Christmas cookies you're about to consume.
---
Newsletters
Get fresh content delivered straight to your inbox.