News & Community
​Baltimore Oyster Partnership to Plant 5 Million Baby Oysters by 2020
Initiative comes ahead of first-ever Great Baltimore Oyster Festival this weekend.
By Ron Cassie. Posted on October 22, 2015, 10:19 am

-Great Baltimore Oyster Partnership
The Great Baltimore Oyster Partnership, a cooperative effort between the Waterfront Partnership's Healthy Harbor Initiative and the Chesapeake Bay Foundation, announced plans Thursday to plant some five million oysters in Baltimore City's Patapsco River over the next five years.

Each year, 150,000 spat—as baby oysters are called—raised in the Inner Harbor will be supplemented by an additional 850,000 spat from Chesapeake Bay Foundation's Oyster Restoration Center in Anne Arundel County.
It's all part of a broader plan to restore the Inner Harbor. Adult oysters filter water, removing harmful excess nutrients while searching for food. A single oyster can filter as much as 50 gallons of water a day. The oyster population, however—while rebounding slightly in recent years—remains at an estimated 2 percent (at best) of its original level. A University of Maryland Center for Environmental Science research paper several years ago had put the oyster population in the upper Chesapeake Bay at .3 percent of its population levels of early 1800s due to overfishing, disease, and habitat loss.
"Oysters once thrived in the tidal portions of the Patapsco River," Adam Lindquist, director of the Healthy Harbor Initiative, said in a press release announcing the initiative. "Given the oysters' unique natural ability to filter pollution from the water, this is one of many efforts to restore the health of the Baltimore Harbor so that it can once again be safe for swimming and fishing."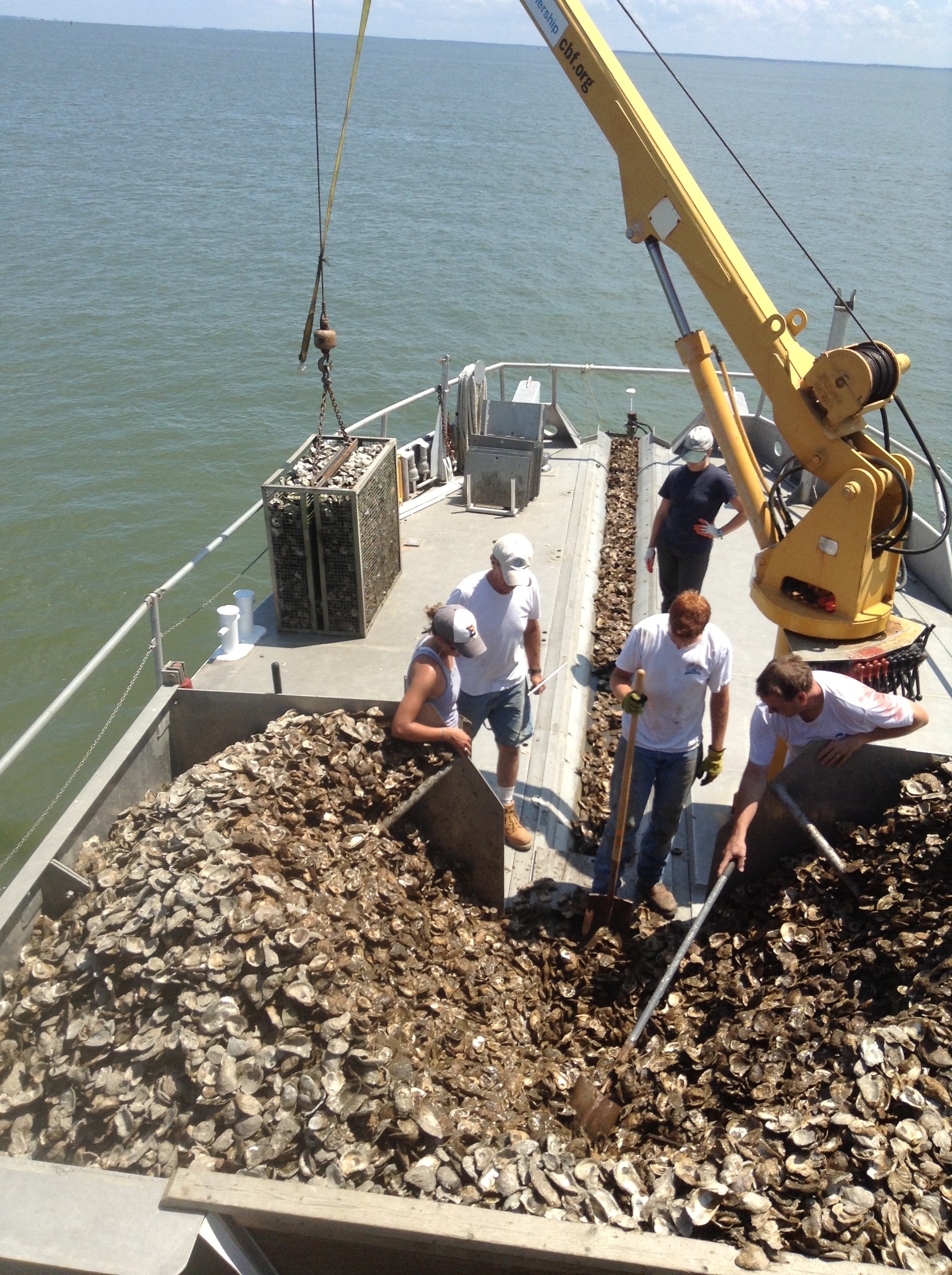 The Great Baltimore Oyster Partnership has attracted volunteer oyster "gardeners," who raise thousands of oysters, learning about their role in creating a healthy harbor ecosystem, said Terry Cummings, director of Chesapeake Bay Foundation's Baltimore Initiative. Great Baltimore Oyster Partnership volunteers grow spat in cages hung off piers throughout the Inner Harbor as well as at the Downtown Sailing Center and Baltimore Marine Centers' Lighthouse Point.
In late spring, the oysters are "harvested" and then transported to the reef at Fort Carroll—a practice that promotes a higher survival rate for the spat because the cages protect them from predators and keeps them close to the surface where there is available food and oxygen, according to the Great Baltimore Oyster Partnership.
The 60-foot Patricia Campbell will transport its first shipment of spat next summer, placing hatchery-produced seed oysters onto sanctuary reefs throughout Maryland waters.
Check a clip of Patricia Campbell at work below. At about 1:20 mark, a close-up begins showing the vessel distributing baby oysters into the water off the rear of the boat.
The announcement of the initiative comes ahead of first-ever Great Baltimore Oyster Festival this Saturday at the Inner Harbor's West Shore Park. The family-friendly afternoon event will include Chesapeake Bay-themed vendors and displays, oyster boat tours, educational activities, and live music by the Eastport Oyster Boys and The High & Wides.
Those attending, of course, will also be able to indulge in a variety of grilled and raw oysters raised throughout the Chesapeake Bay. (Free to attend; $20 for five oyster plates; $5 for one oyster plate.)
Ron Cassie is a senior editor for Baltimore, where he covers the environment, education, medicine, politics, and city life.
Read more from Ron Follow @ron_cassie
---
Newsletters
Get fresh content delivered straight to your inbox.