Arts & Culture
Charm City Fringe Festival Includes Performance of 30 Shakespeare Scenes In One Hour
That Way Madness Lies features audience participation—and bingo.
By Gabriella Souza. Posted on November 13, 2015, 12:59 pm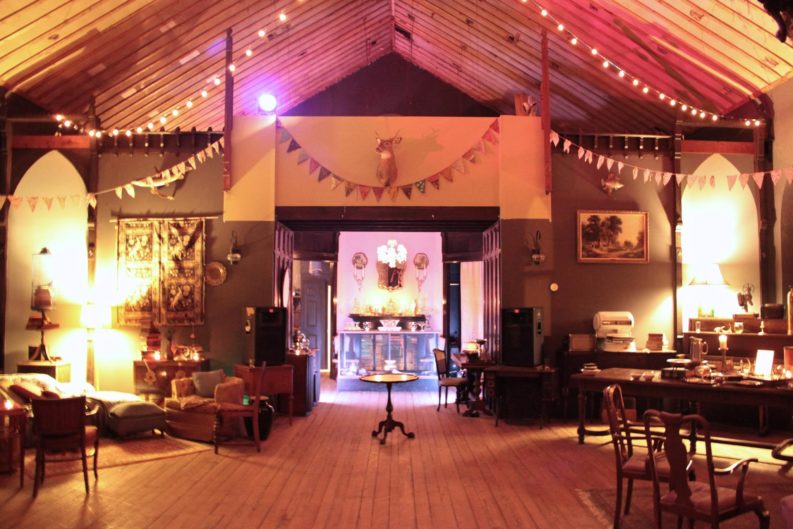 -Courtesy of Church & Company
Be ready for dramatic heroes, emotional monologues, gender bending, murder, hilarity, drunkenness—all in an hour.
Add audience participation and bingo—don't worry, we'll come back to that—and you have That Way Madness Lies: 30 Shakespeare Scenes in 60 Minutes, part of the Charm City Fringe Festival that runs through this weekend.

You'll arrive at Hampden's Church & Company—where the Gothic ambiance is just right for Shakespeare—and receive a program with a bingo card printed inside containing the names of iconic scenes. Here's where it gets interesting—you call out what you want to see based on your card so you can win.
Six talented actors have prepared 45 Shakespeare snippets—from Romeo and Juliet to A Midsummer Night's Dream—that you can chose from. Props and costumes thrown on and off with lightning speed as the performers prepare in seconds.
Though some scenes have been re-interpreted—Thursday night included a hilarious, unorthodox death scene from Julius Caesar, for example—you'll still hear plenty of the classics—the "out damn spot" scene from Macbeth was powerfully delivered by actor Josh Thomas, as was a scene from Hamlet between the title character and Ophelia.
The stars here are the actors and Shakespeare's words—and that is the greatest achievement of this performance. You'll see these incredible works in a different way, and appreciate the dedication and prowess it takes to interpret them.
Plus, the set-up ensures plenty of laughs—and if the actors don't make it to 30 scenes within the hour, a member of the audience gets to throw a pie in one of their faces. You can imagine the old bard getting a laugh out of all of this, too.

Gabriella Souza is the arts and culture editor for Baltimore magazine, where she covers arts, entertainment, music, and culture.
Read more from Gabriella Follow @GSouza_16
---
Newsletters
Get fresh content delivered straight to your inbox.